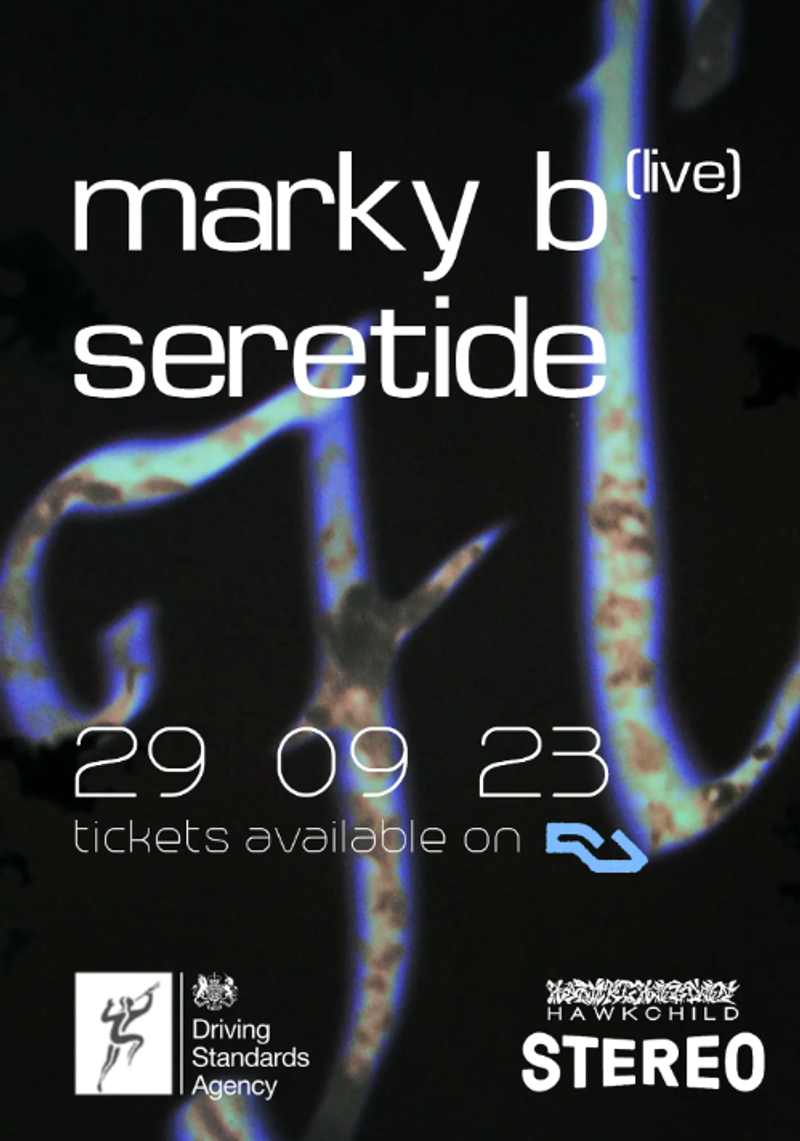 Hawkchild DIY: Marky B (Live) + SERETIDE
Entry Requirements: over 18s only
Buy Tickets
After a sold-out event with Woesum and Kamixlo, Hawkchild DIY returns after a long Summer break with Bassline/Organ House high flyer and internet sensation MARKY B performing live and Trance Party resident SERETIDE to push Stereo to new heights.
MARKY B (Live) Endearingly organic yet packing a solid punch; Marky B has become a flag bearer for Yorkshire's burgeoning scene in the space of only a few years. Amassing Soundcloud and YouTube plays into the tens of millions, legions of screaming fans across the country and even TikTok notoriety in that time; a former landscaper and scrap metal collector has breathed new life into the North's organ house scene. With parallels being drawn to other contemporaries MC's such as Tom Zanetti, Bad Boy Chiller Crew and Silky, he successfully revamps the classic Niche sound for the modern age but retains the rough and ready edge laid before him by his predecessors in his hometown of Bradford.
The best part? He's done it all himself with no labels and no management.
He's levelled Evian Christ's Trance Party twice, packed out warehouse raves across the north of England and soundtracked more police chases that can be counted by the Crown Prosecution Service; so please step into Marky B's world of molegripping locks, raiding crops and court-ordered driving bans; because it's taking over.
People of Glasgow, I have a question: What do you know about dingers?
SERETIDE More likely to be found in his university library rather than in an epilepsy inducing club space, it's completely absurd to see somebody so studious have such an intricate talent for having ravers eyes roll back into their heads. Seretide concocts a fusion of punishing techno, euphoric trance, his heritage of baille funk and even forgotten chart heaters for good measure all while making it look effortless. His "Trance Envy" mix series has been heralded by scene veterans as a beacon for a better future in an increasingly predictable electronic music circuit.
It's not long since he left his teens, but within that time he's taken the reigns as director of Swiss label Bipolar Records and becoming a staple resident at Trance Party, consistently shelling Corsica Studios on a bi-monthly basis back to back with Evian Christ.
Punters have gone as far to say that witnessing Seretide perform "feels like reliving the 2002 World Cup Final" and that it "takes me back to T4 On The Beach but I didn't get this many nosebleeds".
It's a pleasure to have him perform his first proper set in Scotland, and god willing - it won't be the last.