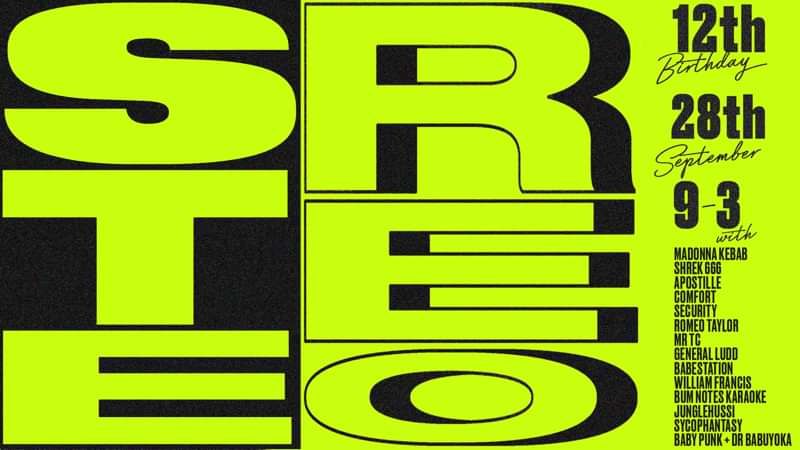 Stereo is 12!
Entry Requirements: over 18s only
We've made it through the wilderness, tried a little tenderness and now we're jumping on the 1s and 2s so you can get your 1-2 step on and have 1-2 many raising a glass to us turning 12. To help us celebrate the fading light of our tweenage years we've got a big bunch of pals together for a right ol' knees up!
LIVE MUSIC FROM: Security Comfort MR TC General Ludd Romeo Taylor Apostille
PERFORMANCE FROM: Madonna Kebab SHREK 666 Baby Punk & Dr Babuyoka
DJ SETS FROM: William Francis (Rhythm Machine) Junglehuset Babestation (Subcity) Sycophantasy
AND Bum Notes KARAOKE to really tie the room together
Suggested donation £5 All proceeds to the Ubuntu Women Shelter. For info and support click here: http://www.ubuntu-glasgow.org.uk/
The upper part of the venue is fully accessible via a lift (rated load 400kg) and there is an accessible toilet available however the basement is currently not (access via 3 flights of stairs). If you have any questions regarding accessibility please get in touch.
The venue works hard to keep everyone safe and comfortable in the space and we do no tolerate harassment or abuse. If you have any issues or face any harassment in the venue please speak to a steward or organiser who will deal with it as quickly as they can.
If you have any questions at all please get in touch with catfromstereo(at)gmail.com or monostereimutations(at)gmail.co