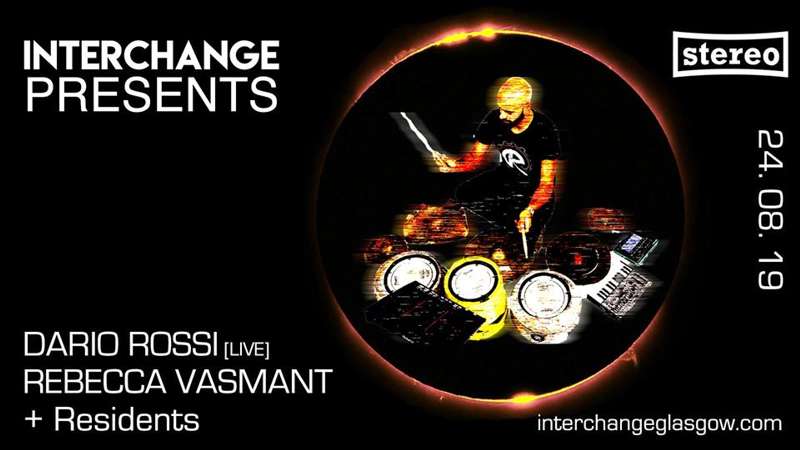 InterChange presents: Dario Rossi
£10 STBF
Entry Requirements: over 18s only
Buy Tickets
Join us for this special instalment of InterChange at one of Glasgow's top venues Stereo Cafe Bar on the 24th of August.
═════════════════════════
███▓▒░░ Dario Rossi ░░▒▓███
Headlining is none other than the exceptional artist, drummer, percussionist and music producer Dario Rossi- making his UK club debut. On a journey that has taken him to many of the great cities of Europe such as Barcelona, where he performed during the Sonar Festival at 'Platja de la Barceloneta', and later inside the 'Plaza Monumental', Dario began as a youngster in Rome experimenting with sound, playing on various surfaces and objects, craving new sound, rhythm and music.
Dario Rossi is now one of the worlds most renowned drummers for his unique performances. His music, and especially his way of producing it, represents a subversion of the electronic music scene. He broke onto the scene in 2011 when he attracted a large crowd of amazed spectators in just a few minutes in 'Piccadilly Circus'. By the summer of 2014 he went viral on the web with his video performance in Berlin's 'Alexander Platz'. After the incredible exposure from his first European Tour in 2015 he is today appreciated by millions of people all over the world. In 2018 he produced his first official release "Alarm Clock EP" which has been distributed on vinyl, cd, and digital downloads.
His set has evolved with the introduction of synthesizers, samplers and electronic pads, with which he performs in real live set/concerts where electronic music technology and the originality of his percussion are combined to create the most exceptional performance.
═════════════════════════
★★★★ Rebecca Vasmant ★★★★
Supporting will be the raw talent that is Dj and Producer Rebecca Vasmant who has been shaking up the status quo. Rebecca brings a fresh new twist to dance music with her love of Jazz-the original form of unbribed spiritual sonic expression.
She has been on an amazing journey herself; promoting her own parties, starting her jazz record label Shiehallion, and touring the world. In her hometown of Glasgow Rebecca established a name for herself with her 'Made in Glasgow' and 'Know The Way Parties' running a popular record fair with the revered Sub Club and a monthly spot on BBC Radio Scotland where she seeks to bridge the gap between jazz and the electronic music scene.
Rebecca has had the crowds of many renowned UK clubs hypnotised with her dynamic house and techno sets. A two-year residency at Edinburgh's Cabaret Voltaire has been followed by appearances at Sankey's Manchester, our dearly departed Arches, Ministry of Sound, Pacha , Turnmills and East Village. She has also played many festivals including Rockness, Audio Soup, Kelburn, Doune The Rabbit Hole and Wickerman, plus Ibiza spots such as Space, Savannah and Zoo Project. Her unique and talented take on music has propelled her onto the globe as her MOS activities have taken her to 22 countries in the last two years.
Her unique and talented take on music has not been limited to the UK as Rebecca's MOS activities have taken her to 22 countries in the last two years,
A rare talent like Rebecca Vasmant is the perfect foil for Dario Rossi's one of a kind style.
═════════════════════════
Don't miss out on this explosion of two extremely uniquely talented individuals, as InterChange keeps true to their aim of bringing the best rising talent to Glasgow.
═════════════════════════
Tickets Available From £10 On Our Website