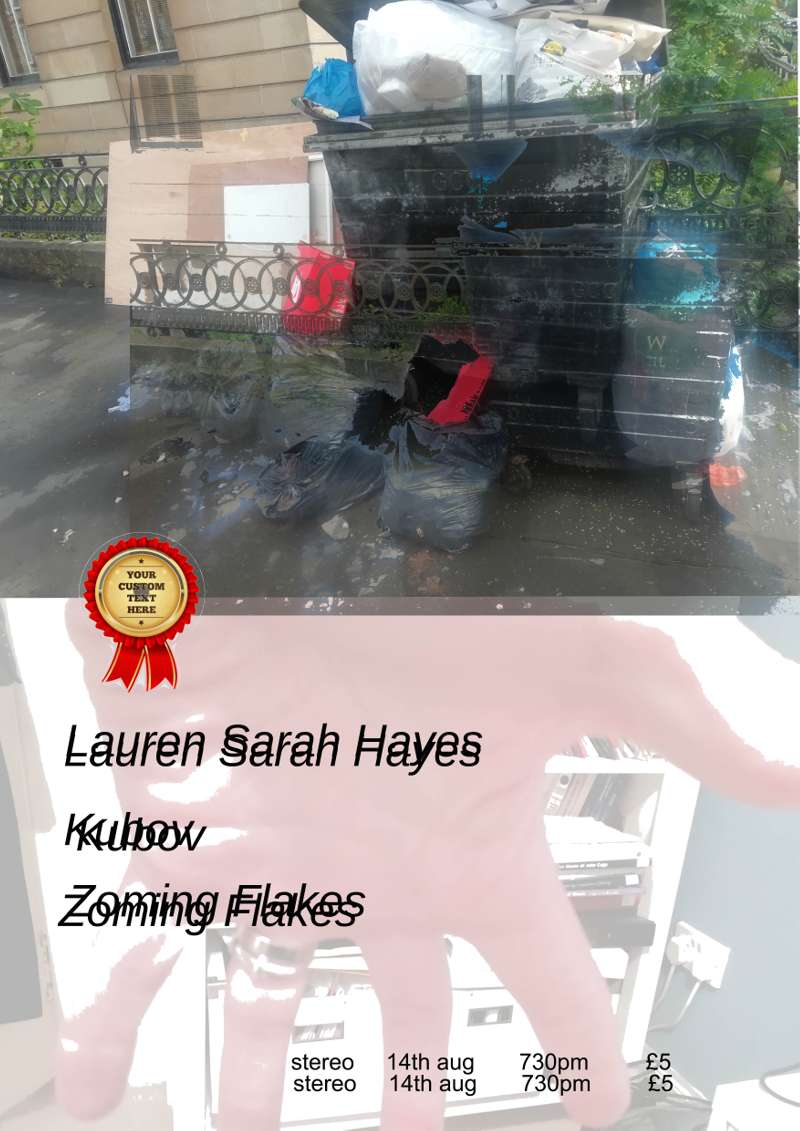 Stereo presents:
Lauren Sarah Hayes + Kubov + Zoming Flakes
£5 OTD
Entry Requirements: over 18s only
LAUREN SARAH HAYES KUBOV ZOMING FLAKES
Stereo Wed 14th August 7.30pm £5 OTD
Lauren Sarah Hayes is a Scottish musician and sound artist who builds and performs with hybrid analogue/digital instruments. She is a "positively ferocious improvisor" (Cycling '74), her music refusing to sit nicely between free improv, experimental pop, techno, and noise. Over the last decade she has developed and honed a deliberately challenging and unpredictable performance system that explores the relationships between bodies, sound, environments, and technology. The Wire described her most recent album MANIPULATION (pan y rosas discos) as "skittering melodies and clip-clopping rhythms suggesting a mischievous intelligence emerging from this web of wires". She is a member of the New BBC Radiophonic Workshop. https://laurensarahhayes.com
KUBOV is a duo of violin and electronics. Incorporating minimalist textures and harrowing dissonance and distortion, their music ranges from the esoterically tingly to downright disturbing. Their eclectic sonorities are a result of the hybridisation of electronics and acoustic instrument, with which they explore and combine spaces and places, warping perspective and effecting a sonic escapism. KUBOV originated as a collaborative endeavour between composer and performer, and has developed over the years through a compulsion to break away from the traditional boundaries of the discrete roles and to research the potential of this instrumental and creative composite through performance. http://kubov.co.uk
ZOMING FLAKES is the expanding duo of Fritz Welch and Iain Findlay-Walsh who feel they are just like trying to capture and spill the feelings of stranded persons addicted to just fucking about in nebulous space forever. Percussion and pickup.