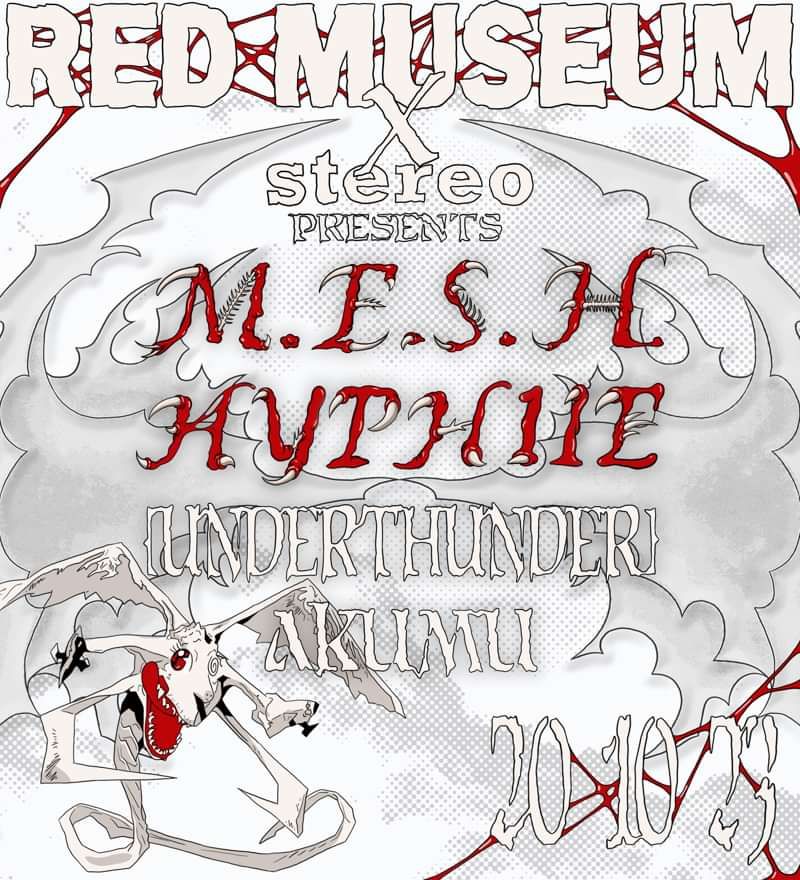 Red Museum x Stereo present: M.E.S.H & Hyph11E
Entry Requirements: over 18s only
Buy Tickets
It is time to enter the Red Museum…
We invite you back for our fourth instalment, and the last of 2023, featuring M. E. S. H. in his Glasgow debut. As a co-resident of Berlin club night Janus, M.E.S.H. has been constantly active bringing fragmented rhythms to the dancefloor on PAN EPs such as Scythians and Damaged Merc, and building oblique, theatrical sound-stages on long player works Piteous Gate and Hesaitix. Violent cinematic effects enshroud ornate, virtual-acoustic instrumentation, with an eerie calm ebbing beneath the flux. On his last album Hesaitix the atmosphere has shifted; the radical deconstruction of previous releases has given way to subtler interventions, building new structures in the territories where the unconscious and the alien intersect. M.E.S.H.'s SPLIT ep with Tzusing via PAN reminds us just how good the singular producer really is at making a club banger. His recent Hör mix showcases what an excellent DJ he is, weaving dark sleazy basslines with tech house inspired grooves. Following on from a year of continuing to tour his live and DJ sets, with key performances at ICA, London / Hyperreality, Vienna / Mutek, Barcelona / Next Sound, Kiev (not to mention a very special live AV performance in Soto, Kyoto), and Final Taipei, we are so excited to welcome him in to the Red Museum.
Also guesting for her first time in Glasgow, we have China's Hyph11e. She is at the forefront of a new generation of producers in Shanghai spearheading China's club music movement. She released her debut EP, Vanishing Cinema, in 2017 via Shanghai imprint SVBKVLT, featuring remixes from Tzusing, M.E.S.H. and Ingrate (FKA Kid Antoine). More recently, Hyph11E has released a collaborative EP with Slikback, and featured on Genome 6.66Mbp compilations. In 2020 she returned to SVBKVLT for her debut album Aperture - a twisted and unpredictable mangling of drum & bass, footwork and less tangible club influences, firmly facing the apocalyptic frontier of club experimentation. As well as following up Aperture with a blistering hour-long mix for the coveted RA podcast, Hyph11E has performed at Berlin's Berghain/Panorama Bar for CTM Festival, London's Corsica Studios for Kode9's Ø night, Tokyo's WWW and Sonar Hong Kong amongst others. We are more than thrilled to have her on board.
In support, we have [underthunder]; a DJ dedicated to hard-hitting percussive intensity. Her globe-trotting selections fall in the realm of the textural, breaky, and the celebratory. She is the co-founder of Phlox, a Glasgow collective focused on sensory experience within the club, and a favourite of local party Mutt Klub.
Our host AKUMU will be welcoming you into the night with the lure of strange electronic soundscapes, entangling you in a gentle web of mysterious melodies to get you ready for what's ahead.
Will I see you again at the Red Museum?