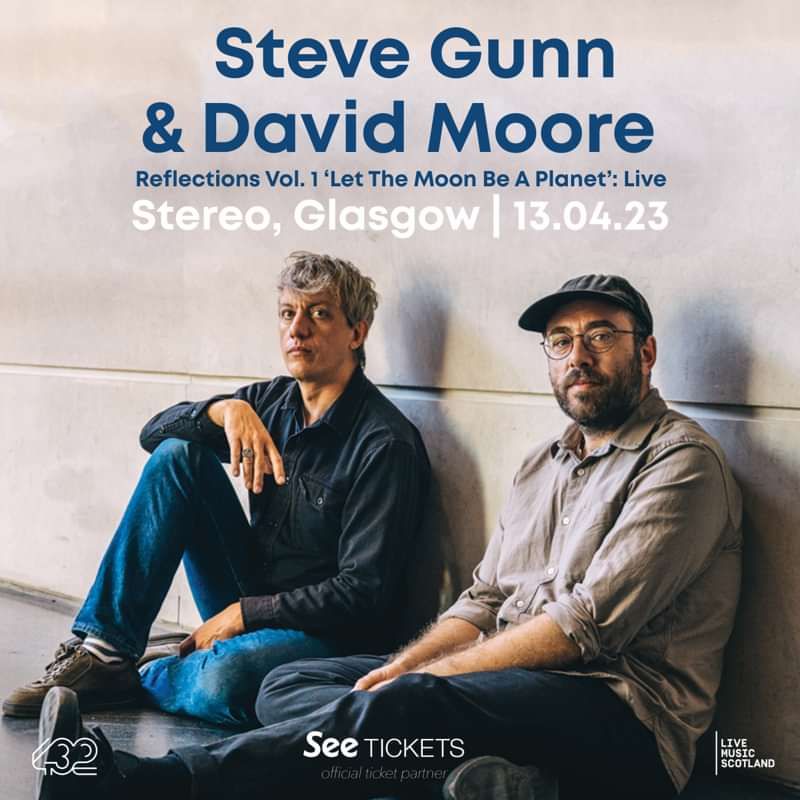 432 presents:
Steve Gunn and David Moore
£16
Entry Requirements: over 18s only
Buy Tickets
432 Presents Steve Gunn and David Moore Stereo, Glasgow 13.04.23 Tickets on sale NOW: https://bit.ly/3X8EkCc Steve Gunn and David Moore's Let the Moon be a Planet is a volume of improvisatory exchanges between classical guitar and piano, and a meeting place where two artists become acquainted through instrumental dialogue without a single expectation distracting them from the joy and open field possibility of collaboration. A project enveloped by an aura of reciprocity, Let the Moon Be a Planet unfolded from an invitation to connect between two New York-based musicians who admired each other's work but had never intersected: guitarist and songwriter Steve Gunn, whose solo, duo, and ensemble recordings represent milestones of contemporary guitar-guided material, and pianist and composer David Moore, acclaimed for his minimalist ensemble music as the leader of Bing & Ruth. The exchange began remotely as Gunn and Moore responded to one another's solo improvisations, embarking on a synergistic progression of deep listening and connection through musical conversation. "We were both fans of each other's music and this was a chance to try a different process which was much more open," says Moore. "It felt like something I needed personally as an artist, to not be so controlling over the final output, and to truly collaborate with somebody else." Similarly for Gunn, who was exploring new pastures and passages in classical guitar when the dialogue began, the project was an invitation for pure conversation and exchange, creating space for him to revisit foundational forms with his playing: "I was trying to break out of what I was doing, to have something that just pulled away all the elements of usual structured things." Let the Moon Be a Planet intertwines the trajectories of two musicians acclaimed for pushing the boundaries of their instruments, unified by a shift away from what they recall as more "detail-oriented" approaches to composition. Fueled by the magnetism of their call and response exercise, Gunn and Moore set out on a nomadic songwriting venture without an intended destination. "We didn't know it was going to be an album," Gunn explains. "There was never pressure on us to complete or make something. It was interesting to start realizing that this could be an album and to take a step back… to arrive at a project after the fact." Calibrating their focus to connect with a spectrum of inner and external emotional realities, the duo found their way into a world where the most subtle of gestures can eternally flow. Let the Moon be a Planet is an ode to experimentation over outcome; it holds a candle light to the corners of introspection and captures the patterns that flicker within. Cast across the compositions of the album is a gritty, filmic grain — a quality that emerged partially from recording "without the greatest microphones" or their usual studio environments. For both artists, this lo-fi sensitivity felt integral to the record and its production, and they worked closely with engineer Nick Principe to preserve its otherworldly haze in the final mixes. Across the record's eight compositions, the rippling impulses of Gunn and Moore's inner worlds converge in the spirit of two strangers wandering the same path, engaged in a daydream state of natural back and forth. Melodic tableaux arise, drift and disperse across serene open spaces, painted in earthy hues of nylon string and balmy, undulating keys — side by side, the duo converse in tessellating motifs and gestures of lucid introspection, cultivated by a shared desire for intuitive play. "This project was such a simple idea," says Gunn. "It got down to the very core of where I am or where I was, and where I'm trying to be as a musician. Making this record became a very beneficial ritual for me, almost a meditative process." As Moore recalls, "Our only motivation for making these tracks was that it felt good to make them and there was nothing else behind it… I don't know that I've ever made a record that came about so naturally." While Let the Moon Be a Planet was envisioned through a deeply collaborative process, it uncovered a path for Gunn and Moore to respectively return home as musicians. Imbued with the forces of interconnection and balance, the record is an exploration of creative synergy while following the currents of inner experience — of looking outwards to arrive at one's natural self. Steve Gunn and David Moore's Let the Moon Be a Planet will be released March 31, 2023 in LP, CD, and digital editions. The album represents the first volume of Reflections, a new series of contemporary collaborations orchestrated by RVNG Intl. A portion of the proceeds from this release will benefit St. John's Bread and Life, whose mission is to respect the dignity and rights of all persons by ensuring access to healthy, nutritious food and comprehensive human services resulting in self-sufficiency and stability.