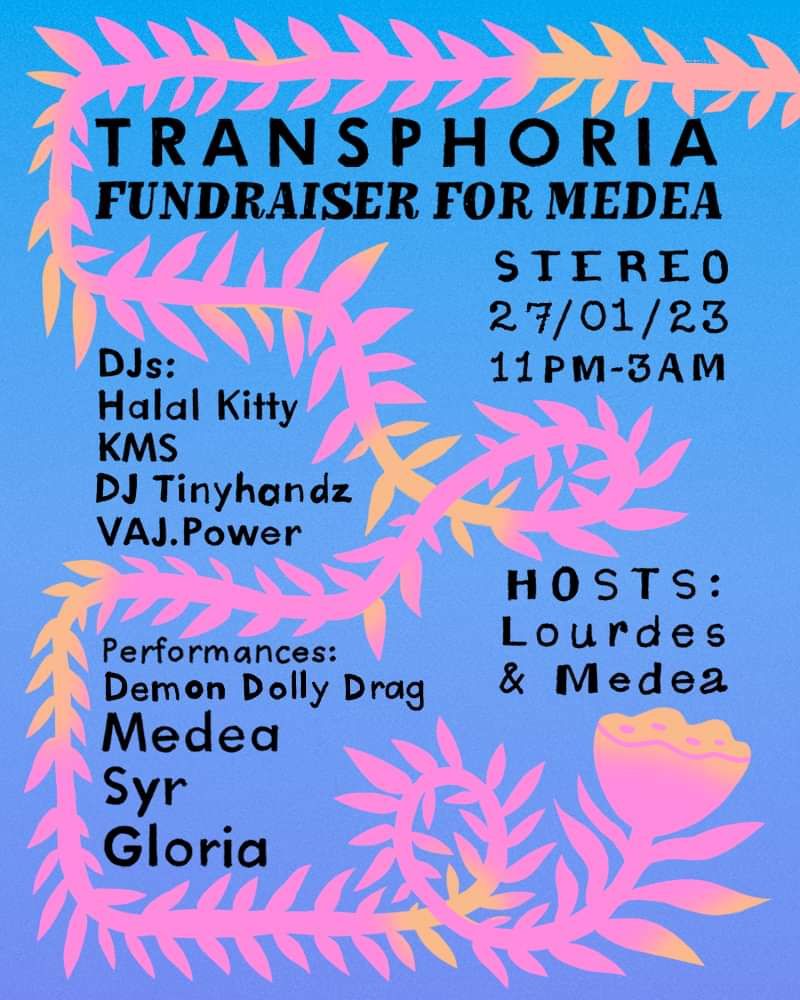 Stereo presents:
TRANSPHORIA: Fundraiser for Medea
VAJ.Power + DJ Tinyhandz + Halal Kitty + KMS + Medea + Demon Dolly Drag + Gloria + Syr + Lourdes
£5
Entry Requirements: over 18s only
Buy Tickets
January 27th - TRANSPHORIA - Fundraiser for Medea's transition/survival fund.
We are delighted to be able to contribute to her transition and survival fund, with all proceeds from the event going towards her gofundme.
Line-Up:
DJ sets - KMS, Halal Kitty, DJ Tinyhandz
Performance: Medea, Syr, Gloria, Demon Dolly Drag
Our beautiful hosts for the night are Lourdes & Medea herself.
Having come to Glasgow for her studies,Medea has been able to find a sense of community and it has allowed her to finally live as herself, which is why she decided to apply for asylum in the UK as that would allow her to escape her transphobic parents and transphobic society in India permanently. The Home Office has made the asylum-seeking process increasingly difficult for her, as they deprived her of her right to work after her screening interview.
After being refused her asylum seeking claim, she has been hit with a huge bill for her appeal, which would jeopardise her transition fund.
With draconic legal fees & no right for work, Medea has to sacrifice her transition fund in order to stay in Glasgow. This fundraiser is aimed to minimise that and help with some costs associated with her transition.
Medea (she/they) is an emerging drag queen, having done her drag debut at Tracks Mondays Open Stage Volume III. Following which she's performed at Infectious Glasgow Summerslam Open Stage, and for Bonjour Pride Day, House of Flowers, and of course the Tracks Reopening Anniversary Fundraiser, the Infectious Glasgow 3rd Anniversary Party, and the very first FIRE!! at Bonjour. She's a non binary trans femme from India, bringing forth a drag style that's rooted in the transfeminine culture of the Indian subcontinent, subverting gender norms through mix of theatre , dance and music.