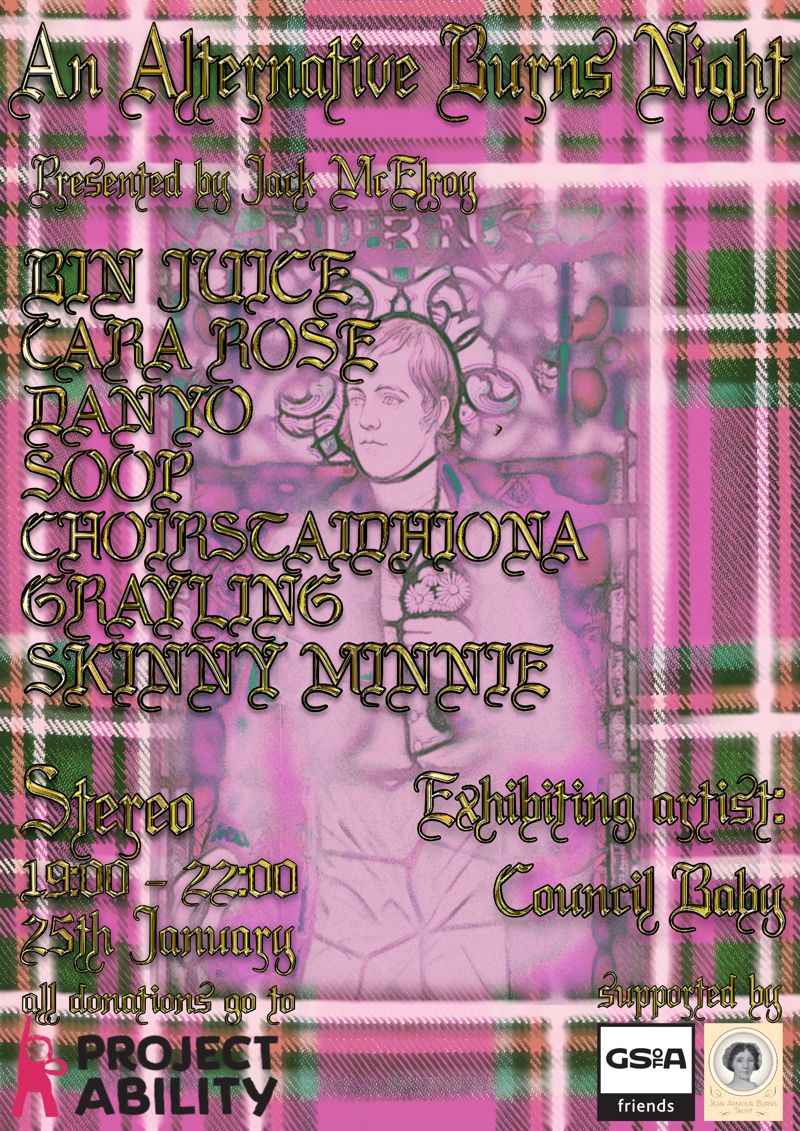 An Alternative Burns Night 2023
PAY WHAT YOU CAN
Entry Requirements: over 18s only
LINE UP: CARA ROSE - @cararosemusic BIN JUICE - @bin.juice GRAYLING - @graylingmusic CHOIRSTAIDHIONA - @choirstaidhiona.jpeg SOOP - @ soop .co .uk SKINNY MINNIE - @skinnyminniequeen DANYO - @danielmaherr +MORE TO BE ANNOUNCED!
The concept of An Alternative Burns Night developed in response to cuts to creative funding and education and acts as a demand for better funding for the arts by celebrating Burns Night through showcasing contemporary performers with all donations going directly to a local creative charity. As Burns events happen across Scotland on the 25th January we celebrate the creative talent of Burns yet cuts are made to funding that would support the success of future creative talent.
All donations will go directly to Glasgow based Project Ability, who create opportunities for people with disabilities and people with lived experience of metal ill-health, aged 5 to 80 plus, to express themselves and achieve their artistic potential.
PRIZES TO BE WON: With thanks to the generous donations of Craft Pottery and Craft Pottery Studio there will be prizes to be won on the night: - £100 Voucher - Pottery Painting - £45 Voucher - Pottery Wheel Lesson And kindly from Project Ability Artist - Cameron Morgan: - £75 Voucher - A4 Pet Portrait
Follow on Instagram - @altburnsnight2023 Sliding Scale Entry: PAY WHAT YOU CAN ON THE DOOOR. - 19:00 Beautiful Poster by Shan Daly - @daly.shan With thanks to the support of Jean Armour Burns Trust and Friends of GSA and STEREO.