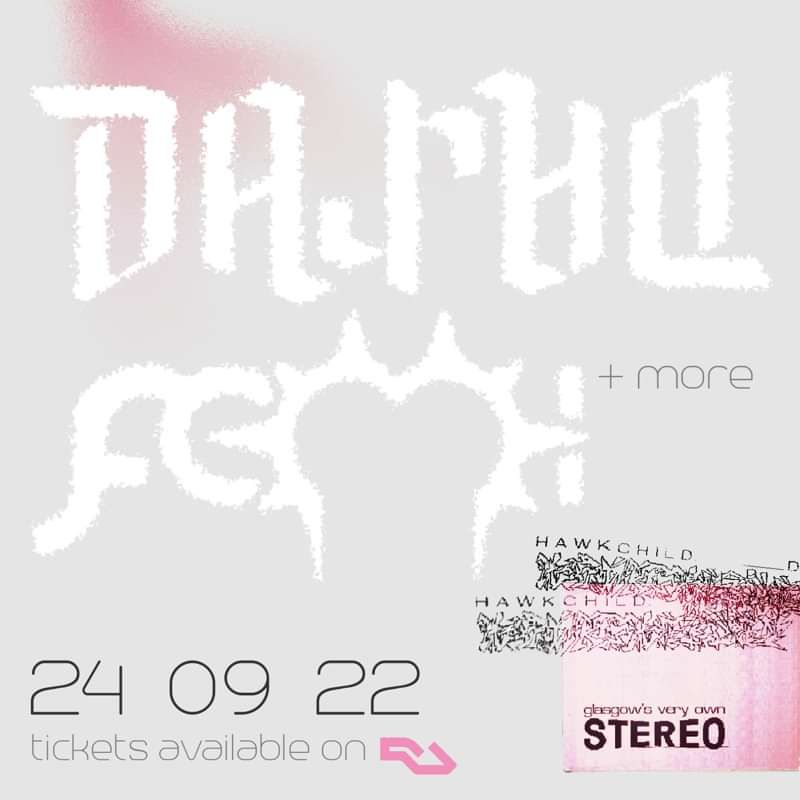 Hawkchild DIY: Dark0 + Femi
£12.50
Entry Requirements: over 18s only
Buy Tickets
Dark0 returns to Glasgow in over 5 years to celebrate the release of his critically acclaimed debut LP on esteemed Swedish label Year0001. Joined by Year0001's most captivating DJ, Femi, expect a night of high-octane euphoria.
DARK0:- North-West London's most beloved, Dark0, has been an integral staple in the capital's club scene for a decade. Having released records through the years on Rinse, XL Recordings, Adult Swim and recently Year0001, Dark0 has stayed one step a head of the curve by exploring his own personal universe - influenced by JRPG soundtracks like Final Fantasy just as much as the glory years of London's nightlife that he grew up in.
Despite being a relatively enigmatic figure, Dark0 has racked up accolades for his futuristic productions that veer between euphoric trance, pounding techno to London's ever-evolving road rap soundscape. From receiving praise from the likes of Ellie Goulding and Oli Sykes to sharing the stage with Skepta at MoMA PS1 in New York, along with providing audio content for fashion houses such as Burberry and Kenzo has made Dark0 one of the most sought after producers in the UK.
After a blinding performance in Glasgow's sorely missed Art School in 2017 and many requests to return to Scotland, Dark0 welcomes us back into his world with open arms with both love and anticipation in equal measure.
FEMI:- Stockholm-native Femi has repeatedly demonstrated her talent as a DJ through her ability to perfectly navigate classic trance and progressive house in a way that evokes sincere and emotive euphoria. Influenced by 90s and 00s dance music ranging from Tiesto and Chicane to Deepest Blue and Eric Prydz; Femi executes a true-to-sound experience of electronic music at the turn of the millennium - a feat which so many fail to achieve.
Femi has cemented herself as a trusted and admire figure within record label Year0001, Evian Christ's Trance Party and Malibu's United In Flames NTS show as well as performing at major festivals including Primavera and Sonar. Despite this being her first billed performance in Scotland, she was last seen behind the decks here at the Yung Lean's first gig in Glasgow in 2014 - a night still heralded as legendary by the local scene years on.