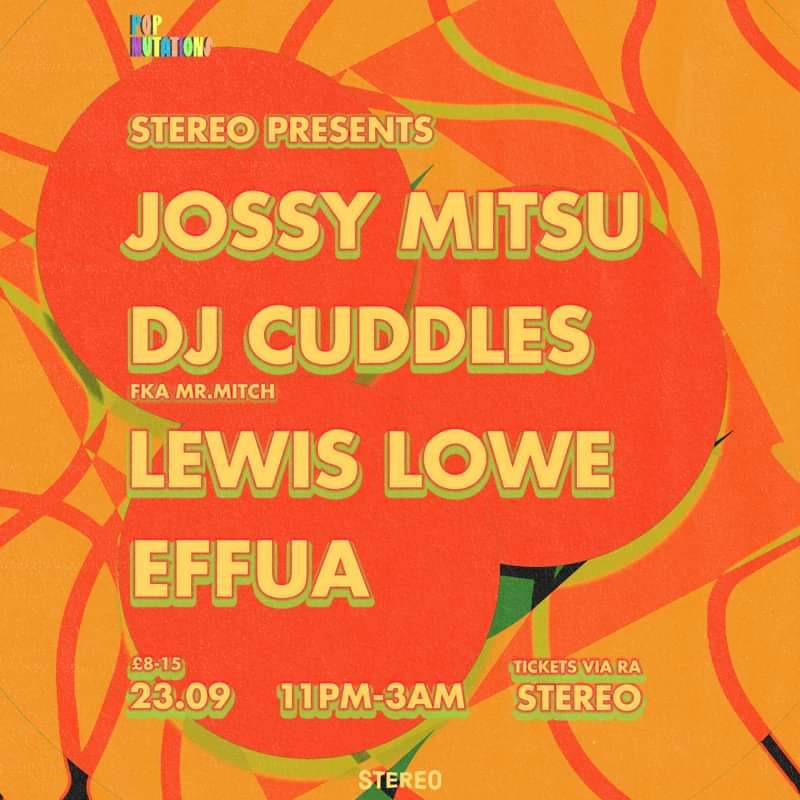 Stereo presents: Jossy Mitsu & DJ Cuddles (FKA Mr.Mitch) + Lewis Lowe & Effua
£8-15
Entry Requirements: over 18s only
Buy Tickets
Stereo presents:
Jossy Mitsu DJ Cuddles (FKA Mr Mitch) Lewis Lowe (Redstone Press) Effua
23/09/22 - Stereo
Jossy Mitsu:
Born and raised in Birmingham, Jossy Mitsu became an avid music collector at the age of 15 and later taught herself to DJ on turntables at 18. She's known for her ability to shell down any club, whether that's rinsing out a twisted concoction of sweaty House, Techno and left field club heaters, firing heavy-weight Rave and Jungle sets, or serenading you with her 2-step vinyl collection.
Now based in London, holding down Rinse and Fabric residencies, Jossy has DJ'd across Europe and the UK, at the likes of Dekmantel, Glastonbury, The Warehouse Project, Dimensions and more. Jossy has been in the studio creating the follow up to her incredible debut EP, set for release later this year 2022 is another big one for Jossy Mitsu
DJ Cuddles:
Perhaps best-known internationally as the Planet Mu Records-signed producer and DJ, London's Mr. Mitch, aka DJ Cuddles, is more than he appears. A unique artist, he defines his music by his own personality rather than deferring to a scene consensus. A minimalist at heart, Mitchell specialises in detailed sound and melody in space, but remains ambitious in his scope, taking excerpts and inspiration from RnB, Dancehall and his early roots in grime.
This is clear on his new album Lazy – released on his own label Gobstopper Records. According to Boomkat the album places Mitch as "the UK's answer to Theo Parrish" as he is "jazzily drawing out of the lines and injecting their works with a tangible, characteristic sort of psychedelic soul". The album also lends itself to the club – as noted by Pitchfork, it "sounds like the best kind of club set".
As the founder of fast-rising record label Gobstopper Records and co-founder of the club night Boxed, DJ Cuddles is also a curator and auteur at the forefront of one of the most forward-thinking sounds in club culture, also encompassing ambient and experimental electronic music. Between his own music and the music he champions, he is a reliable incubator of a music scene dedicated to re-thinking and expanding what UK club music means.