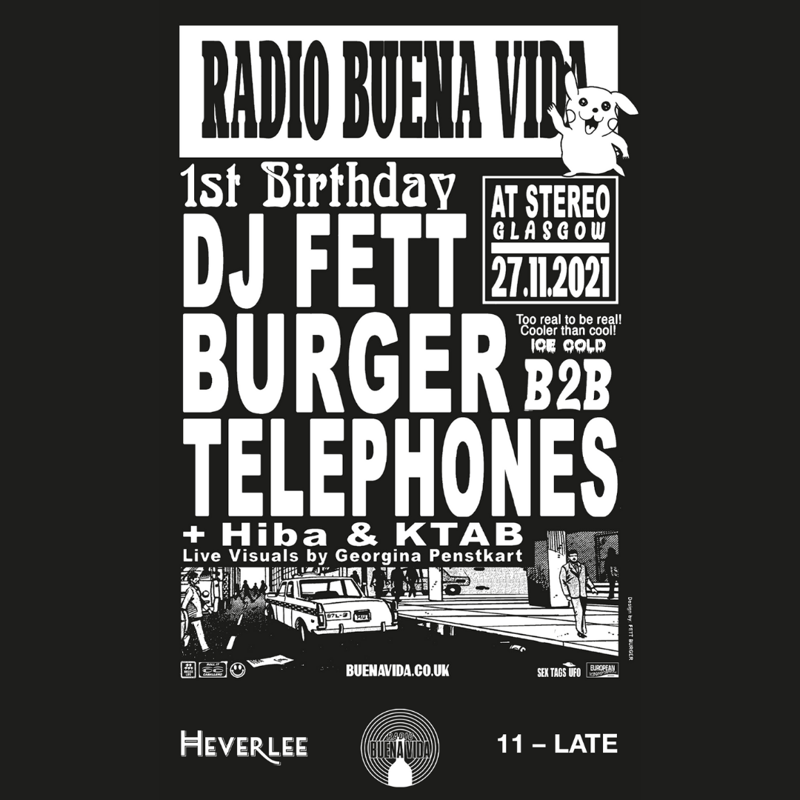 Radio Buena Vida 1st Birthday Party
Entry Requirements: over 18s only
Buy Tickets
To celebrate our first year on air, and since we were unable to throw a launch party due to the pandemic, we are organising a knees-up across two city centre venues on Saturday 27th November 2021 featuring a selection of the local, national and international guests who have graced our airwaves over the past 12 months.
Previous special guests, DJ Fett Burger (Sex Tags UFO) and Telephones (European Carryall) will go back-to-back after sets from RBV resident DJ/producer KTAB and Edinburgh-based DJ/selector Hiba at the Stereo venue on Renfield Lane from 11pm - late. Live visuals will be provided by Georgina Penstkart.
Celebrations begin earlier in the evening directly across from Stereo with part one of the party taking place in The Old Hairdressers event space from 6pm, where RBV residents Curlach, Farnaz, Hot Towel and Optimistic Soul will provide an eclectic soundtrack until Stereo's doors open.