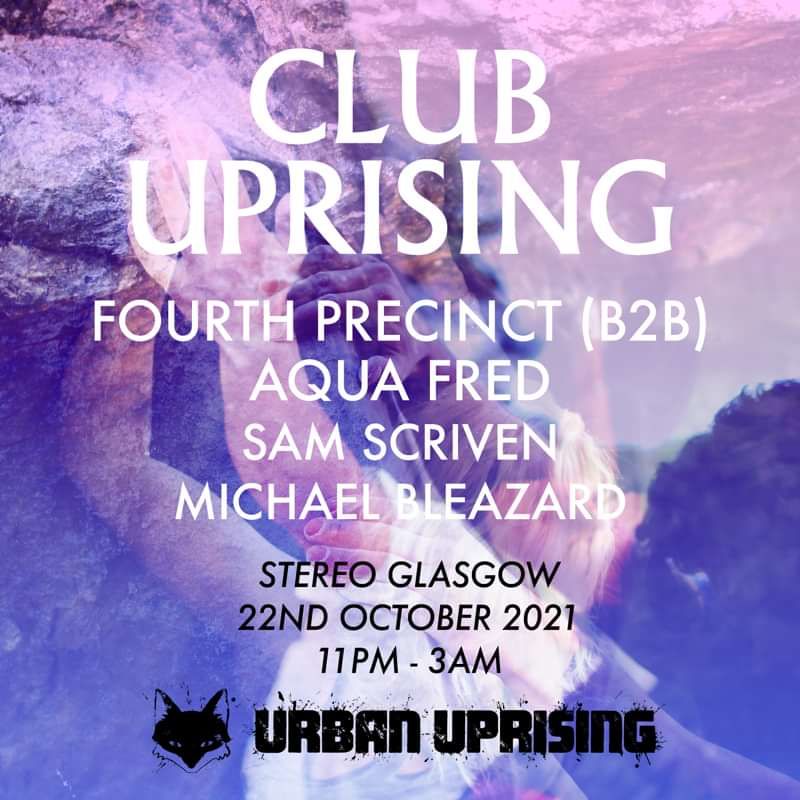 Club Uprising
Entry Requirements: over 18s only
Who'd have thought the last time we all danced together was going to be right before the very first ! Our last night was HUGE! And for Urban Uprising we raised £1,132.
Well, we're back and it's going to be better than ever before. Take all that pent up dance energy you've got and bring it to Stereo's basement on the 22nd of October at 11pm- 3am.
We'll have Funk, House, Techno, all that good stuff!
If you haven't been to a Club Uprising event before, basically it's a party to raise funds for the amazing charity called Urban Uprising - https://www.urbanuprising.org. They give disadvantagedlockdownnumber young people a chance to be taught how to climb safely and responsibly. They also gain improved self-esteem, develop life and employment skills, discover adventure, and find a sense of community.
For entry, ALL PARTICIPANTS MUST SHOW A NEGATIVE LATERAL FLOW TEST AT THE DOOR.
£8 tickets online. All proceeds going to Urban Uprising.
**Tickets MUST be bought in advance of the night. This is to limit any choke points at the door and understand capacity. **
A small number of ticketsbut they're also are available at the door for £12.
Lineup-
Michael Bleazard - You know Blez. He's the big strong climber lad that makes the loud power screams at TCA and good music everywhere. https://soundcloud.com/user9376175/tracks
Sam Scriven - You know him. He wears hats a lot and plays the music on the regs for you at Stereo and at TCA. https://www.mixcloud.com/samuel-scriven/
La Cheetah residents Fourth Precinct B2B Aqua Fred - These guys are GREAT. Not only are they weekly residents at one of Glasgow's finest dance clubs, La Cheetah, but they're also a couple of pals that love climbing. Dahl Palfrey AKA Fourth Precinct recently opened for Glasgow's Riverside Festival. Aidan Potter AKA Aqua Fred is a lovely lad. Check out their Clydebuilt Radio show - https://soundcloud.com/clydebuiltradio/aqua-fred-fourth-precinct-10?ref=clipboard
We can't wait to see you there. It's been way too long. Let's get down.
From Stereo -
"COVID-19 Protection Policy Productions & Promoters
All promoters / productions are required to submit their COVID-19 risk assessments prior to arriving on the day. This should include clear evidence measures are being taken to limit personnel on site where not required.
Face coverings should be worn at all times in our building (when not actively performing), with exception to those medically exempt.
Stereo takes no liability for artist(s) social distancing when performing (minimum 1 metre where possible)
All personnel and artists should have staggered arrival and departure times to the premises. Only required personnel and artists should be on site at any time.
Catering requirements must be prearranged either in advance or on the day between the FoH Duty Manager & Event Rep.
Choke Points
Public entrance for all venue events until further notice will be via our secondary entrance at the east end of our building on Renfield Lane.
To combat congestion at the entrance and stairs, we would ask the following...
We insist that Doors Opening times are adhered to. To help facilitate this, we are changing our standard load in access time to 3pm as a temporary measure. Note that no Sound Engineer will be available until 4pm.
Please ensure an additional 5 minutes minimum is added to all changes between sets. This will also allow for the additional cleaning of equipment our techs will need to carry out.
Please make all efforts to encourage:
Advance ticket purchases (preferably using online ticketing to remove physical tickets as a contact point)

Early arrival of ticket holders

Advance merchandise sales for collection

Compliance with current COVID regulations, including:
o Wearing face coverings when entering and exiting the venue, waiting in any door queues and moving between spaces, including going to the washrooms or ordering at the bar
o Use of hand sanitisers around the space
o Not attending the show if you are symptomatic
o Continuing to create distance from other people where possible
o We will also be asking customers to conduct a Lateral Flow Test prior to attending the gig. There will be
no enforcement, but we will still be requesting this as a show of respect to us, the artists & the crowd around them.
We will be providing text that must be presented to customers during advance ticket purchases and/or on any ticket confirmation documents. We would ask that, should you have issue with this, you speak to us before deciding to not implement this step. This text is below.
When coming to Stereo please...
o Wear your face covering when entering and exiting the venue, waiting in any door queues and moving between spaces, including going to the washrooms or ordering at the bar
o Use of hand sanitisers around the space
o Sign into and out of Test & Protect on entry and exit from the show
o Continue to create distance from other people where possible
o Conduct a Lateral Flow Test prior to attending the gig and stay home if the result is positive
o Do not attempt to attend the show if you are symptomatic. Persons displaying possible symptoms will
be refused entry or removed from the event o Respect other gig goers & our staff