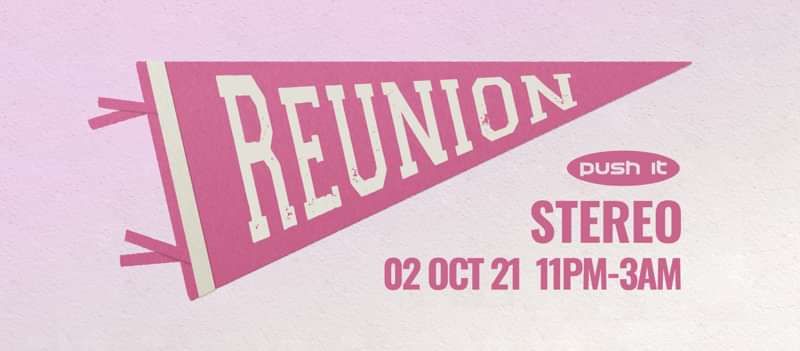 Push It@: Reunion
Entry Requirements: over 18s only
Buy Tickets
All the rumours are true What you heard that's true We're back!
When u left, we lost a part of us cos' we belong together! It's been a time - there's been ups & downs, a few in & outs… but now we ain't gunna let the good ones go! So from the top, make it drop & bring the bounce back baby! Hands up to the sky, PUSH IT's gunna make good times RAIN.ON.U! Whenever, wherever - we're meant to be together & now finally we'll be there & you'll be near! PUSH IT, reunite!
To keep everyone safe we're selling tickets in advance. Get your tickets here or click the 'Find Tickets' button: https://www.seetickets.com/tour/push-it-reunion
11-3am // ♥ $5 + bf ♥ XOXOXO
COVID INFO You will also be required to show proof of vaccination - more info to follow. In addition, when coming to Stereo please… Wear your face covering when entering and exiting the venue, waiting in any door queues and moving between spaces, including going to the washrooms or ordering at the bar Use the hand sanitisers around the space Sign into and out of Test & Protect on entry and exit from the show Continue to create distance from other people where possible Regardless of vaccine status, conduct a Lateral Flow Test prior to attending the event. Stay home if the result is positive. We may ask for evidence of a negative test, please either take an image of the test or ensure you have a confirmation text from the NHS. In the interests of everybody's safety, you may be refused entry if unable to provide evidence. Do not attempt to attend the bar or venue if you are symptomatic or have received a positive test. Persons displaying possible symptoms will be refused entry or removed from the venue Respect other users of the space & our staff Purchase your ticket in advance. This will help us reduce queuing time on doors, reduces cash handling, allows us to accurately judge staffing and just makes the experience that bit smoother. Be mindful that we may be using different entrances and exits than you remember to encourage traffic flow and reduce crowding in certain area There will not be a cloakroom in operation
ACCESSIBILITY INFO The top floor of Stereo is accessible, with a lift. Unfortunately, stereo's basement is not wheelchair accessible as it is down 4 flights of stairs. Stereo is a safer space venue and does not tolerate discrimination or harassment.If you have any issues on the night please contact us, the door stewards or the bar staff. Gender neutral toilets available.