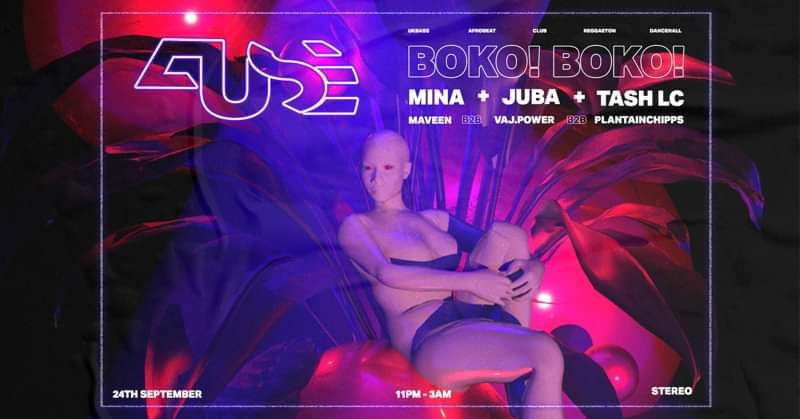 FUSE w/ Boko! Boko! (Mina, Juba, Tash LC)
Entry Requirements: over 18s only
Buy Tickets
FUSE is finally back!!
We can't be more excited for the return, and this time we are delighted to bring the power trio Boko! Boko! - Mina, Juba & Tash LC. We've been fans for some time and were rinsing their sets when we missed the club the most during the lockdown. Mina, Tash LC and Juba are iconic as solo artists, so to see their magic as a collective is definitely an opportunity not to be missed. https://www.youtube.com/watch?v=hl3pxszTHyg&t=575s...
To top this line up off, we are bringing back the Glasgow finest b2b2b and FUSE regulars, Maveen, Plantainchipps and VAJ.Power. Expect high energy all night long, from afrobeat to dancehall, to bass +++++++ (and definitely expect to dance A LOT)
Donations You can donate at the check out. Please be aware the donation box is not highlighted, so to opt-out just enter '0' in the donation field at the bottom of the list of fees. Extra donations (after deduction of free tickets) will go towards Small Trans Library's fund. Report to follow shortly after the party. We will also set up a donation box at the entrance.
Policy: FUSE and Stereo operate safer space and has zero tolerance to discrimination and harassment. We prioritise the experiences of women, queer and trans folk. If you face anything uncomfortable please do let bar staff, the security or anyone wearing a VAJ badge know. Respect each other's boundaries and keep in mind that something that works for one person doesn't work for another. Please be respectful of other people's space and do not touch anyone without their consent. Do not assume anyone's pronouns, - if you are a cisgender person, we encourage you to state your pronouns when meeting others and ask for theirs. The tolerance to substances might have gone down, therefore we would like to remind you to take it slow and stay on a safer side. If you feel unwell, please let the staff know, - there won't be any judgment. If you can't afford a price ticket and/or missed the early birds, please get in touch.* * We kindly ask allies to not use this option for the members of the community to have full access to reduced and free tickets If you are coming alone, feel free to email or DM us if you have any concern
Accessibility: Unfortunately, the club space is located in the basement, and is not wheelchair accessible. Public entrance for all venue events until further notice will be via Stereo's secondary entrance at the east end of the building on Renfield Lane. Bar upstairs will be operating as a chill space in case you need a break or feel overwhelmed. Seats available in the club space Gender-neutral toilets provided
COVID SAFETY When coming to Stereo please... o Wear your face covering when entering and exiting the venue, waiting in any door queues and moving between spaces, including going to the washrooms or ordering at the bar o Use of hand sanitisers around the space o Sign into and out of Test & Protect on entry and exit from the show o Continue to create distance from other people where possible o Conduct a Lateral Flow Test prior to attending the gig and stay home if the result is positive o Do not attempt to attend the show if you are symptomatic. Persons displaying possible symptoms will be refused entry or removed from the event o Respect other gig goers & our staff