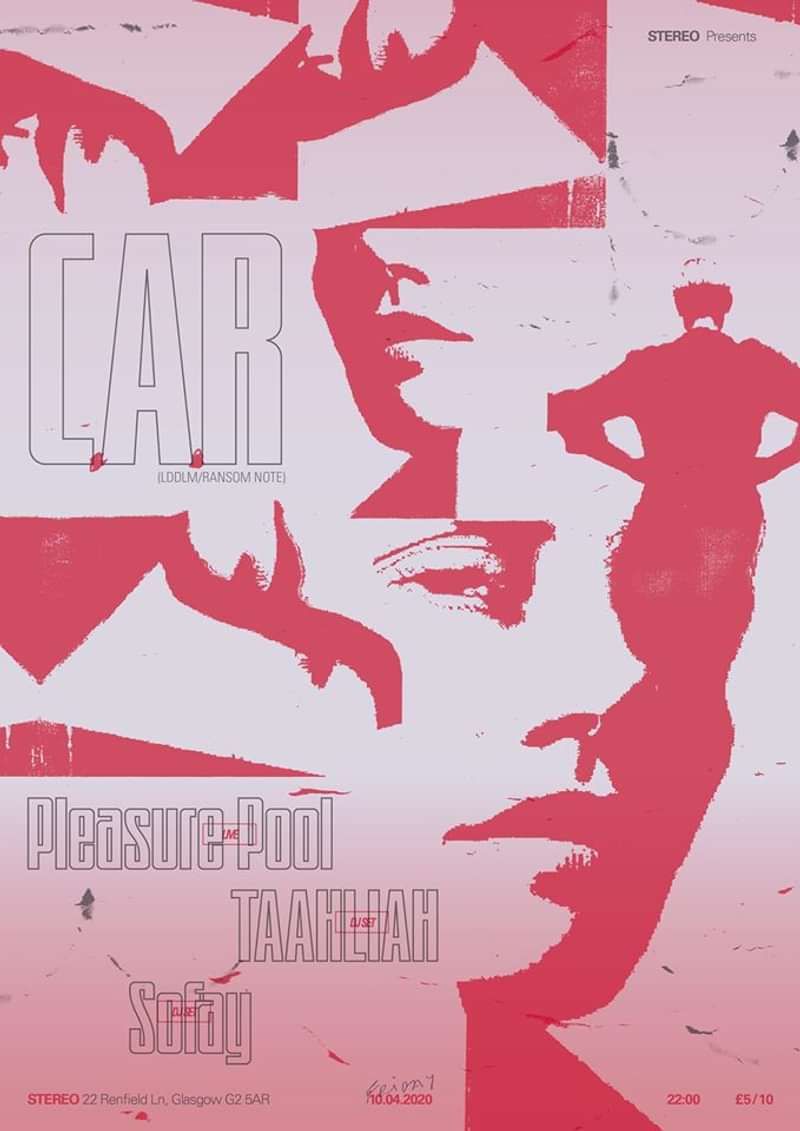 C.A.R, Taahliah, Pleasure Pool, Sofay
£5
Entry Requirements: over 18s only
Buy Tickets
Stereo Presents:
A Multi-dimensional cross-genre party to celebrate the release of C.A.R's new album 'Crossing Prior Street' released on Ransom Note Records
C.A.R (LDdlM/Ransome Note) live TAAHLIAH Pleasure Pool live Sofay b2b MR TC
10pm-3am £5-£10 Tickets available from Resident Advisor
//////////////////////////////////////////////////////
C.A.R live London residing, Franco-Canadian Chloé Raunet aka C.A.R. is a unique underground producer and lyricist who's been immersed in the world of post-punk, cold wave and her own brand of off-kilter synth-pop since the days fronting her band Battant. A self-trained musician, she writes, composes and produces everything on her own. Raunet is the first to say her approach is punk - very much a DIY process of trial and error. The result is playful, machine-driven and dark.
TAAHLIAH TAAHLIAH is an artist, activist and DJ from Glasgow. Her musical productions, both brutal and pop, express a societal ideal of fluidity in line with different debates she animates across her city's cultural sector. The aim is to discuss the invisibility of minorities and the various incidents provoked by the binary model. TAAHLIAH's sets reveal the liberating potential within the exaggeratedly efficient genre of dance pop, in which the glossy packaging serves to politicise the subject matter.
Pleasure Pool live Glasgow party-starters Pleasure Pool are the latest dance sensation to graduate from the halls of the ever-prolific Green Door Studio. Their sound fuses grooving basslines with analogue drum machines and the LCD-esque vocals of front-man Shandy. Live, their shows are a non-negotiable dance party.
Sofay
A DJ that habitually pushes dance floors into unknown and exciting territory. The Numbers will begin the evening's proceedings, providing a suitable psychedelic environment for everyone to sink into