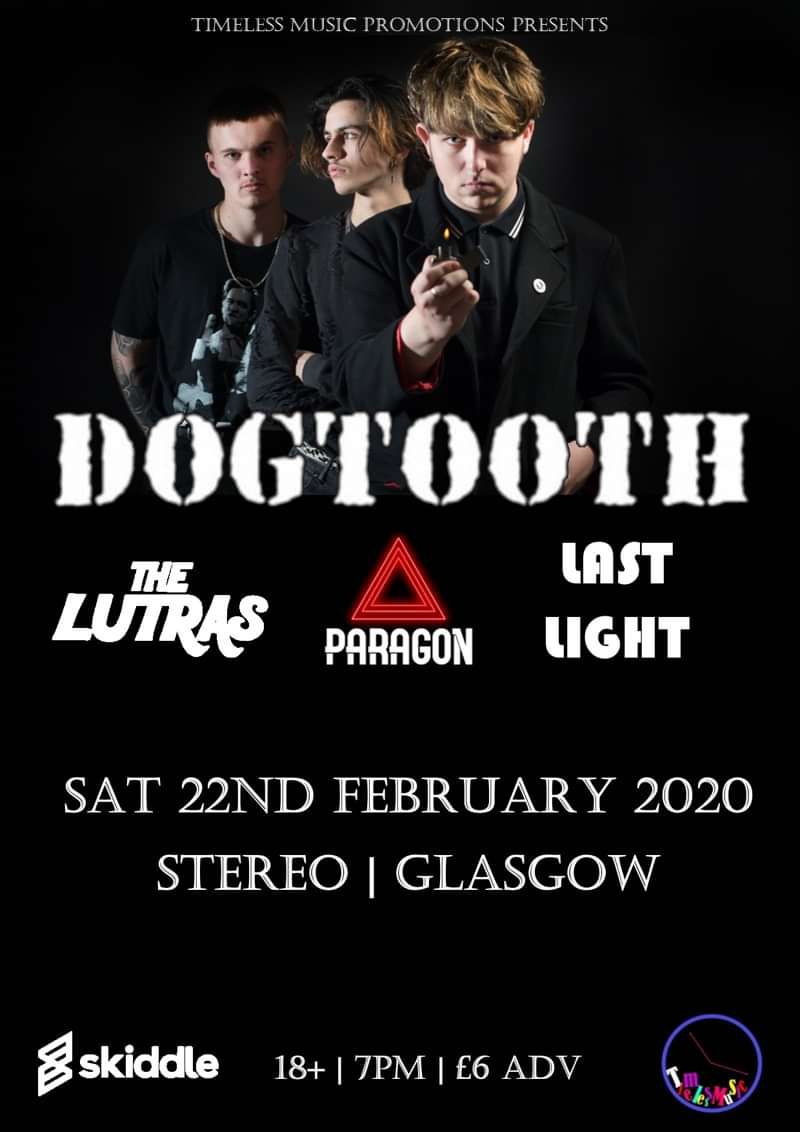 Dogtooth
£7
Entry Requirements: over 18s only
Buy Tickets
TIMELESS MUSIC PROMOTIONS PRESENTS SATURDAY 22ND FEBRUARY 2020 STEREO | GLASGOW
Formed in 2013, Dogtooth band have built a strong fanbase playing over 300 shows across the UK. The three-piece indie/ alternative band released their debut EP "Breakthrough" in May 2017 with an instore launch at HMV Argyle Street and is available in all UK stores on 10" vinyl and CD format. Dogtooth have played shows in some of Glasgow's most iconic venues including The Barrowland Ballroom, St Luke's and the O2 ABC.
Hailing from Dumfries The Lutras are exploding on the UK scene at the moment. In the past 12 months, The Lutras have twice sold out hometown headline shows at the 350 capacity Venue in Dumfries, alongside rapturous performances at Edinburgh's Liquid Rooms and Glasgow's iconic King Tut's Wah Wah Hut, firmly cementing the foursome as one of Scotland's most-hotly tipped new bands.
Following their totally independent debut release, 'Run & Hide', and having amassed over 100,000 combined streams. Produced by Bruce Rintoul (Twin Atlantic, Fatherson), Vari is a soulful, folklore inspired rock number where the protagonist tussles with infatuation, songwriter and bassist Danny explains, "it's a personal song for the hopeless romantics and day-dreamers. For the people who lust for longing, love and affection - put that in yer pipe, Mozart". Drawing on their mutual love of 60's & 70's rock 'n' roll and big pop choruses complemented by Rintoul's production, The Lutras cleverly forge a timeless record.
Paragon are a four- piece band from Glasgow, after only forming in late 2018 the band have quickly grown a loyal fanbase and released classic singles like "Your Sides", "Moscow" and "Break of the Dawn".
'Simple yet Complicated' some of the words that have been said about Glaswegian band Last Light. All from the same school, Last Light have been performing in the ever-growing Scottish music scene and playing their unique role out of the countless bands. It hard to pin point exactly where their sound originates from, but one thing is clear that these guys know how to put on a show.