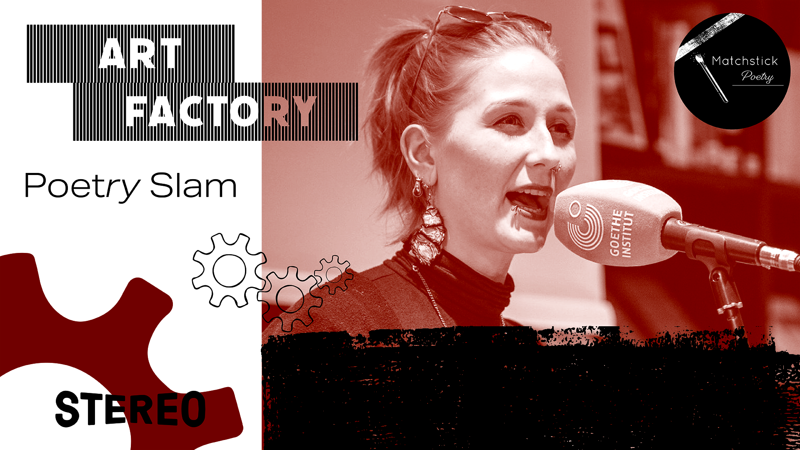 1st Art Factory - Poetry Slam
£6.20
Entry Requirements: over 18s only
MATCHSTICK POETRY IS HERE
We've finally made it out of ages of planning and preparing to make sure there's enough creativity, art and love packed together for you! We want to invite you to our VERY FIRST event in lovely Glasgow!
The ART FACTORY POETRY SLAM is a hotchpotch of a variety of arts to give you a unique Slam Poetry-Experience! From singers, to dancers, we got you covered. Oh and yeah, there are poets as well!
We're bringing competitive Slam Poetry to the next level in Scotland and want to give our fantastic artists a stage, together with you. All of our performers will be headliners and appropriately presented to make the best out of your Monday night!
WHEN & WHERE? 17th of February 2020 19:00-22:00 Stereo Cafe Bar 20 - 28 Renfield Lane Glasgow G2 5AR
TICKETS With a Reservation £6.20 - Adult £5.00 - Student
Box Office £7.20 - Adult £6.00 - Student
RESERVATION We recommend reserving your seats as quickly as possible so you can be sure to have your place and even get a discount. Isn't that amazing? Simply write a short email to matchstickpoetry@gmail.com and we will make sure there is a place for you.
In order to ensure you a free place, please be at the venue at least 10 minutes before the official start of the event, as from 19:00 on, the early entrance period will be over. In case you come late, your discount stays with you nevertheless ;)
QUESTIONS?
Feel free to write to us here on Facebook and we will get back to you ASAP. Promise ♥