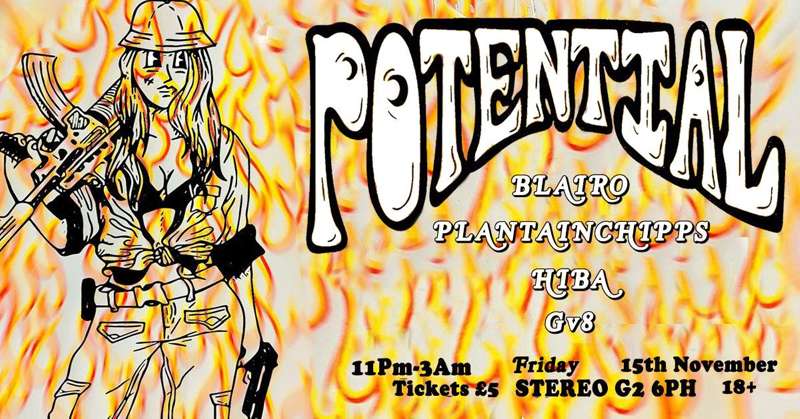 Potential 002 w Blairo, Plantainchipps, Hiba, Gv8
Entry Requirements: over 18s only
PUT ~ YOUR ~ FINGER ~ TO ~ THE ~ PULSE ~ SEE ~ THE ~ UNSEEN ~ IN ~ THE ~ SCENE ~ COME ~ TO ~ POTENTIAL 002
EBM ~ TECHNO ~ ELECTRO ~ MIAMI BASS ~ AFROBEATS ~ RNB ~ HOUSE ~ ARABIC FUNK ~ GQOM ~ KUDURO ~ AFRO HOUSE
BRINGING YOU 4 DJS WITH MULTIPLE ENERGIES TO DANCE THROUGH A NIGHT OF POTENTIAL
11PM - 3AM FRIDAY 15TH NOVEMBER STEREO £5 OTD, £3 B4 MIDNIGHT IF YOU SAY "SHAHEEDA" OTD
BLAIRO PLANTAINCHIPPS HIBA Gv8
BLAIRO is the DJ alias of Blair Wallace. His sets are injected with the gritty noise of EBM, the weird experimental fringes within techno, while having a penchant for bursting out electro and miami bass. His aim whether on a warm up or a headline set is to take the crowd through a sonic journey spanning through a wide variety of genres.
Glasgow based DJ, Plantainchipps is all about upbeat and fast-paced sounds. Music that uplifts and excites all those that listen to it. Her style is predominantly afrobeats, R'n'B, and house, however, she enjoys exploring other genres and adding them to her mix. Plantainchipps has played a variety of gigs around Glasgow in venues that include Broadcast, Stereo, The Art School and others. She has always had an interest in music and the different genres that it includes and occasionally makes some of her own. Music has always been a means of expression as well as release and through djing, Plantainchipps has been able to create sets that are not only enjoyable for herself, but also for those she plays to.
Hiba is an up-and-coming DJ from Lebanon who channels her Middle Eastern culture into Arabic funk and electro selections. She is based in Edinburgh and holds a regular slot at Edinburgh's independent community station, EH-FM. Her sets take inspiration from the likes of Habibi Funk, Dar Disku, Acid Arab, and other European-based Arabic music parties. However given the lack of Arabic music in Scotland's clubbing scene, she's looking to change that –so come along with an open mind and enough energy to dance all night long.
@tanagambura, who goes by the name Gv8 when she's behind the decks, is an Intermedia artist and cultural producer from Zimbabwe. Having recently joined the scene, she serves a fusion of classical African sounds from the continent and beyond with the new age flavour of gqom, kuduro and afro house. Gv8 hopes that with every track she mixes, African sonic culture is reclaimed, celebrated and heard.