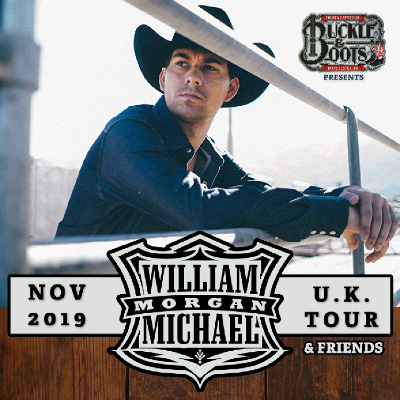 Buckle & Boots presents:
William Michael Morgan
£18 STBF
Entry Requirements: over 18s only
Buy Tickets
William Michael Morgan has only just arrived in his mid-twenties, but with a love of country music deeper than The Big River itself, the Mississippi native is the very definition of an old soul. His pristine Southern vocal, timeless sound and honest lyric represents a new generation of hit-makers in Music City–modern day descendants of artists like Randy Travis, Alan Jackson and George Strait.
After signing his major-label deal at the tender age of 19, Morgan began by hitting the top of the radio charts, landing at No. 1 on Mediabase with the Gold-certified "I Met a Girl." He then released an acclaimed EP and earned a Billboard Top 5 with his 2016 album debut, Vinyl. He has performed more than 50 times on the Grand Ole Opry and was featured by the Country Music Hall of Fame and Museum as a highlighted artist in the 2017 American Currents exhibit.