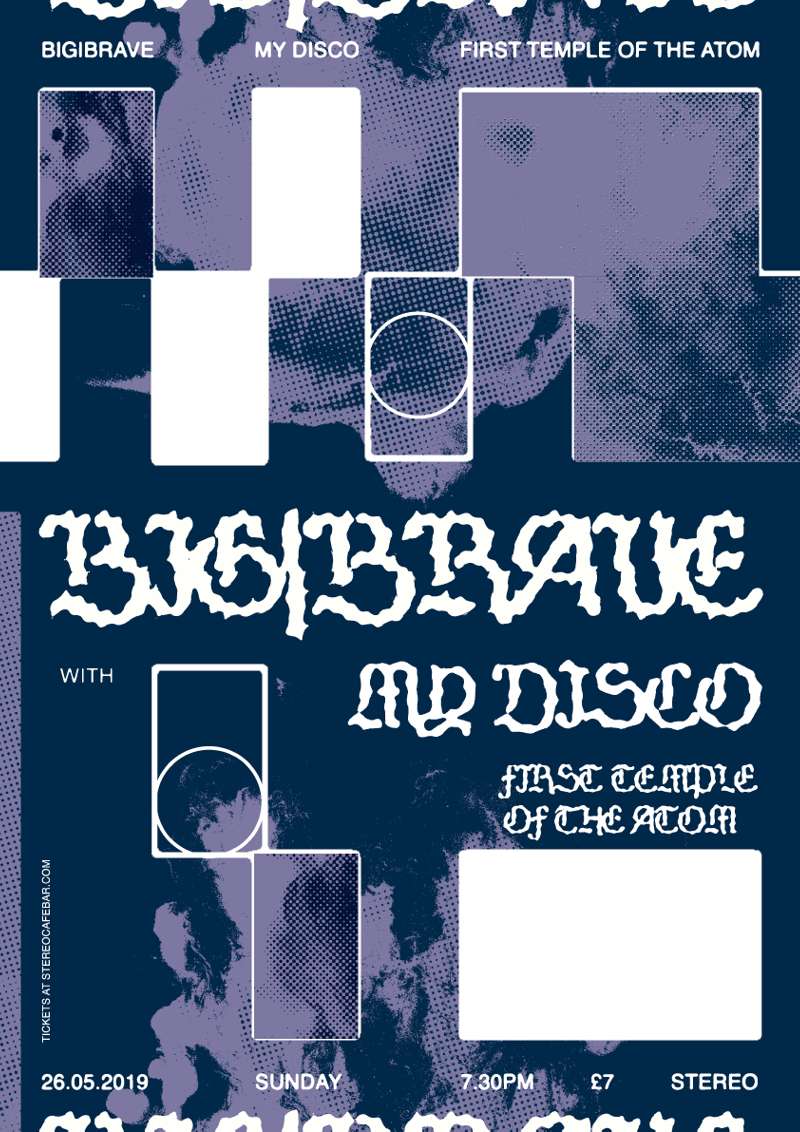 Big Brave + My Disco + First Temple of the Atom
£7 STBF
Entry Requirements: over 18s only
BIG|BRAVE (Southern Lord):
Since their inception in 2012, BIG|BRAVE have explored terrains of experimental rock with a clear focus on the key principles; space, volume, and raw emotion. The essence of BIG | BRAVE's magic has always been the way they balance these dynamics, and particularly how much sheer power comes from the beautifully quiet moments.
The same principles are the starting point for the new album, only the approach is different, beginning with the question "How do we take very little and make something bigger than what we actually have?" vocalist and guitarist Robin Wattie explains further "the biggest challenge was to not do what is easiest. i.e. what we knew worked for the last albums or what is, for us, easy to write. With A Gaze Among Them, Mathieu and I put ourselves through the ringer - I did not want to do what seemed to me to be a 'logical next step' in what we could do musically. I wanted to go back to our original concepts and work from there - space, tension, minimalism and voice (finding melody and musicality in pieces that consist of one note for longer than ten minutes, for example) were the primary concentrations I wanted to push." In the process of revisiting their early intentions, BIG | BRAVE have boldly evolved, emerging with a thrilling new body of work that is all at once refreshingly new, explosively heavy, dynamically loud, beautifully minimal, carefully repetitive, and totally and utterly cathartic.
A Gaze Among Them features Robin Wattie (vocals, electric guitar, guitar amp, bass amp), Mathieu Ball (electric guitar, guitar amps) and Loel Campbell (drums) with guest appearances from Thierry Amar (Godspeed You! Black Emperor, Thee Silver Mt Zion) on Contrabass and Seth Manchester 's synth overdubs. The album was recorded with Seth Manchester at Machine with Magnets in Pawtucket Rhode Island.
The beautiful image adorning the cover (created by Robin Wattie) further demonstrates that BIG | BRAVE have blossomed. The trio sound rejuvenateed and confident, and A Gaze Among Them is the sound of a band truly honing their craft, and feeling totally satisfied with it. Compelling. Necessary. Important.
MY DISCO (Downwards)
'Environment' is MY DISCO's most uncompromising recording to date. Written over a two week period during Berlin winter 2018, the band decided to let their surroundings shape the sound of their new material. Recorded in a place that has seen Einsturzende Neubauten, Keiji Heino and Pan Sonic pen works, the band became immersed within the confines of the space and immediate surroundings and set to create a record that has become a dark and intense departure from their previous releases.
Utilising unconventional instruments and recording techniques, MY DISCO began a process of refining their minimalist approach to creating music. Metal hand percussion, synthesisers and drone box guitar effects all became a unique and integral part of creating 'Environment'. Fast forward a few months to Melbourne Australia; the band chose to again work with Producer and Engineer Cornel Wilzcek at his Electric Dreams Studio. Wilzcek is no stranger to the band's ever changing and all encompassing sound, and this time he collaborated both musically as well as a producer and engineer. Working with Downwards Records seems fitting given the unique elements 'Environment' has to offer the listener. Industrial percussion replaces a standardised drum kit, synthesisers make a strong addition to the music and virtually unrecognisable guitar lines masked in drone and drenched in reverb take place all over the album. Recording the sound of a pre-reunification of German built industrial air conditioning vents, "playing" a steel reverb tank and having purpose built Obstructures instruments designed specifically for this album is what makes both 'Environment' and MY DISCO so versatile, challenging and indeed a product of their surroundings.