Next weekend is a beltin LOVE MUSIC HATE RACISM event on Fri 1st Mayday with PRONTO MAMA, BIGG TAJ & YOUNG PEOPLE'S ARMY and CUTTY'S GYM followed by TOO MUCH HYPE, and then on Sat Synergy Concerts presents AKALA – one of the most articulate and well-informed voices we have heard speaking on racism. GREAT>+!
http://www.stereocafebar.com/listings/events/1-may-15-love-music-hate-racism—may-day-fundraiser-stereo/
http://www.stereocafebar.com/listings/events/2-may-15-akala-stereo/
Next Thur 16th April… Stereo and Night School present: FELIX KUBIN plus guests THE MODERN INSTITUTE + ENJOYABLE MOMENT SOUNDSYSTEM + NIGHT SCHOOL DJS + MWX DJ set
Fri 17th… Stereo presents: ELA ORLEANS Album Launch with ELA ORLEANS (live) + HOWIE B + SACRED PAWS
DAYTIME & EVENING: Glasgow Zine Fest 2K15 - Underground for the underdog. Zines, books, food, tunes, art, DIY DIY DIY. Spread across Old Hairdressers AND Stereo this year, we're looking at double the fun. http://glasgowzinefest.com/
NIGHT (11-3am): Poisoned Chalice presents:
Joe Howe, SOUND PELLEGRINO's KING OF SQUEE (https://soundcloud.com/joooehooowe)
Tonal (ft members of Whilst, Clocked Out, Skullwizard)
Letitia Pleiades (Fem Bitch Nation, Asparagus Piss Raindrop)
DJ Sports (Golden Teacher, Thoth, Optimo Music)
No Globe (The Art School)
DJ Femme Fresh ( Tigerbeat alter ego)
£2 b4 12, £4 after
big big fun
no chin stroking allowed
TMH visualz as standard
fundraising for volunteering trip to Lajee Youth Centre in Aida Refugee Camp, Palestine
For TYCI's March event, we are psyched to be collaborating with live art festival, //BUZZCUT//, along with cracking live music from Pennycress and DJ set from VSO (Divorce).
//BUZZCUT// Festival runs from the 18 – 22 March at the Pearce Institute in Govan. The 5 day, artist-led, pay-what-you-can, international art festival, will feature over 60 experimental performance makers and live artists from across Scotland, the UK and parts of Europe.
We're delighted to welcome two Buzzcut-ers to TYCI in March! All female performance company Figs in Wigs – "Imagine Kraftwerk meets Chicks on Speed at a fruit stall… and you're nowhere close". And equally hilarious duo, Sh!t Theatre – '"We love improvisation, cracks in the facepaint, failure and being SH!T."
Every month, TYCI'S raffle supports a different charity, with the funds raised at our March event going to SAY Women Glasgow.
Poster design by Úrsula Mestre.
//BUZZCUT//: www.glasgowbuzzcut.wordpress.com
FIGS IN WIGS: www.figsinwigs.com
SH!T THEATRE: www.shittheatre.co.uk
PENNYCRESS: www.facebook.com/pennycressforkids
SAY WOMEN GLASGOW: www.say-women.co.uk
URSULA MESTRE: ursulamestre.tumblr.com
Thur 12th March… Stereo presents: JAMES CHANCE & LES CONTORTIONS + JD TWITCH + WHILST (live), 8pm,
Tickets available from Monorail Music, Tickets Scotland, and http://bit.ly/1DjHvJ0
awmagad! not to be missed…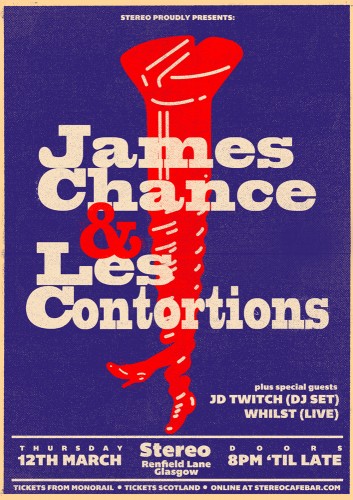 Next Sat 14th Feb V-DAY celebrations in Stereo…
7.30pm - VALENTINE'S DAY LOVE MASSACRE: Live Action from Ruby and Security plus special guests Ela Orleans (DJ Set) and performance by MH followed by…
11pm – 3am PUSH IT -WHEN 2 BECOME 1- V DAY SPECIAL
Thur 29th Jan… Stereo presents Clap! Clap! (live) plus Ghana Soundz DJs + Afrodeesia DJs
http://bit.ly/1Iys7K7
CLAP! CLAP! (Black Acre)
is a new project by the italian producer C. Crisci, focused on research and sampling of tribes, bands and singers originating from the African continent.
http://www.tayibebba.com/
plus guest DJs
GHANA SOUNDZ
+
AFRODEESIA
Stereo
9pm til late
£7 adv
Tickets available via Monorail Music, Tickets Scotland and online http://bit.ly/1Iys7K7
Stereo is proud to present Glasgow's finest power pop people Bis!
Tickets available from Monorail Music, Tickets Scotland and here
Hot on the heels of the release of the BIS ANTHOLOGY: 20 YEARS OF ANTI-SEPTIC POETRY
http://bisnation.com/
Great support from
Ghosts of Dead Airplanes
http://ghostsofdeadairplanes.bandcamp.com/
and
Pennycress
http://pennycress.bandcamp.com/
Tickets available from monorail music, Tickets Scotland and to buy online here
http://www.stereocafebar.com/listings/events/9-jan-15-bis-stereo/
Come on!
This Friday night is shaping up to be pretty wild!! Firstly Synergy Concerts presents SILVER APPLES
Silver Apples is an electronic/psychedelic duo which formed in 1967 in New York City, New York, United States. They originally consisted of Simeon Coxe III (who played a custom home-made synthesizer known as the "Simeon") and Danny Taylor (drums). The duo split in 1970. The group was reformed in 1996 by Simeon and new drummer Xian Hawkins. Danny Taylor returned to the band in 1998 and the band toured and recorded as a trio until 1999 when Simeon was injured in a car accident. The band returned to making music in 2006, but without Taylor, who died in 2005.
Support from ORPHEUS CHOIR
http://www.synergyconcerts.com/listings-tickets/events/28-nov-14-silver-apples-stereo/
THEN LATER THAT NIGHT…
BOOM BAP FESTIVAL AND STEREO PRESENT…
10 YEAR ANNIVERSARY UK TOUR -
KLASHNEKOFF
RES ONE & PARO – SPLIT PROPHETS
Support From:
Konchis & Physiks
Gasp
Big Taj & Spee69
OneTzu & Tecknique
TUNER - Handpicked.
The Urchaxns
Advance Tickets: £7
Door Price: £10
Ticket Scotland - http://t-s.co/klash
11:00pm – 03:00am
On Friday 21st November Canadian composer TIM HECKER will be blowing the roof off Stereo courtesy of PCL Presents. Expect low light and high volume…