'To celebrate the end of exams and the Bank Holiday weekend, Subcity is bringing you a real-life day & night musical extravaganza. We'll be slapping on the sunblock for a (hopefully) sun-kissed day of music & madness at Lilybank Gardens (don't trample the flowers), before we sweat it all off at Stereo until the break of dawn (literally, we checked).'
DAY PARTY // 1200 – 1800 // FREE
Lilybank Gardens (behind Ashton Lane)
AFTER DARK // 2300 – 0400 // £5
Stereo Cafe Bar, Renfield Lane.
________________________________
AFTER DARK
• Hypnotia : subcity.org/shows/hypnotia/
Genre: Dark, Ambient, Electronic
Favourite GU building: Boyd Orr.
Cocktail of choice: Black Russian.
• The Dissolving Dancefloor: subcity.org/shows/thedissolvingdancefloor/
Genre: Techno, Experimental.
TV channel of choice: Static.
Favourite record speed: 33 ⅓.
• Asterism Radio: subcity.org/shows/asterism/
Genre: Techno, Bass.
Loves: Guests.
Party Drink: Buckie Milkshake.
• AKRO: subcity.org/shows/akro/
Genre: Acid Techno, Industrial.
Holiday house in: Detroit.
City or country living?: Warehouse.
DAY PARTY
• Chust Sublime: subcity.org/shows/chustsublime/
Genre: Sea-shanties, Songs in the key of Rum
Favourite boy-band: Wet Wet Wet.
Dancing style: Jig
• Rainbow Dome: subcity.org/shows/therainbowdome/
Genre: Downtempo, Jazz, Ambient.
Favourite Mario Kart track: Rainbow Road.
Least favourite Radiohead album: In Rainbows.
• 199x: subcity.org/shows/199x/
Genre: Underground 90's Hiphop.
Preferred 'Snoop ____' name: Snoop Doggy Dogg.
Worst Enemies: Big Smoke and Ryder.
• Jump Sturdy: subcity.org/shows/jumpsturdy/
Genre: Electronica, Chilled, Hiphop.
Favourite Pokémon: Rattata.
Likes: Flannel.
• ECHOBLOOM: subcity.org/shows/echobloom/
Genre: Downtempo, Chilled, Funky.
Musical inspiration: DJ Keoma, Himself.
Related search terms: Machiavelli, Nepotism.
• TYCI: subcity.org/shows/TYCI/
Genre: Alternative, Activist, Indie.
Dislikes: Small pockets on women's trousers, Discrimination.
Likes: Nice tracksuits.
Total BOMAZ TYCI are back for May's edition with rrrrrrrreally excellent line up! Sat 16th May, £5, mega vibes… easy peasy!
For TYCI's May event, we are delighted to welcome back punk trio Youth Man, all the way from Birmingham, who last graced TYCI's stages back in June 2014. Joining them is Glasgow's own STROP (previously FROTH) and Suzi from the SAY- long listed Happy Meals on the decks.
Next weekend is a beltin LOVE MUSIC HATE RACISM event on Fri 1st Mayday with PRONTO MAMA, BIGG TAJ & YOUNG PEOPLE'S ARMY and CUTTY'S GYM followed by TOO MUCH HYPE, and then on Sat Synergy Concerts presents AKALA – one of the most articulate and well-informed voices we have heard speaking on racism. GREAT>+!
http://www.stereocafebar.com/listings/events/1-may-15-love-music-hate-racism—may-day-fundraiser-stereo/
http://www.stereocafebar.com/listings/events/2-may-15-akala-stereo/
Next Thur 16th April… Stereo and Night School present: FELIX KUBIN plus guests THE MODERN INSTITUTE + ENJOYABLE MOMENT SOUNDSYSTEM + NIGHT SCHOOL DJS + MWX DJ set
Fri 17th… Stereo presents: ELA ORLEANS Album Launch with ELA ORLEANS (live) + HOWIE B + SACRED PAWS
DAYTIME & EVENING: Glasgow Zine Fest 2K15 - Underground for the underdog. Zines, books, food, tunes, art, DIY DIY DIY. Spread across Old Hairdressers AND Stereo this year, we're looking at double the fun. http://glasgowzinefest.com/
NIGHT (11-3am): Poisoned Chalice presents:
Joe Howe, SOUND PELLEGRINO's KING OF SQUEE (https://soundcloud.com/joooehooowe)
Tonal (ft members of Whilst, Clocked Out, Skullwizard)
Letitia Pleiades (Fem Bitch Nation, Asparagus Piss Raindrop)
DJ Sports (Golden Teacher, Thoth, Optimo Music)
No Globe (The Art School)
DJ Femme Fresh ( Tigerbeat alter ego)
£2 b4 12, £4 after
big big fun
no chin stroking allowed
TMH visualz as standard
fundraising for volunteering trip to Lajee Youth Centre in Aida Refugee Camp, Palestine
For TYCI's March event, we are psyched to be collaborating with live art festival, //BUZZCUT//, along with cracking live music from Pennycress and DJ set from VSO (Divorce).
//BUZZCUT// Festival runs from the 18 – 22 March at the Pearce Institute in Govan. The 5 day, artist-led, pay-what-you-can, international art festival, will feature over 60 experimental performance makers and live artists from across Scotland, the UK and parts of Europe.
We're delighted to welcome two Buzzcut-ers to TYCI in March! All female performance company Figs in Wigs – "Imagine Kraftwerk meets Chicks on Speed at a fruit stall… and you're nowhere close". And equally hilarious duo, Sh!t Theatre – '"We love improvisation, cracks in the facepaint, failure and being SH!T."
Every month, TYCI'S raffle supports a different charity, with the funds raised at our March event going to SAY Women Glasgow.
Poster design by Úrsula Mestre.
//BUZZCUT//: www.glasgowbuzzcut.wordpress.com
FIGS IN WIGS: www.figsinwigs.com
SH!T THEATRE: www.shittheatre.co.uk
PENNYCRESS: www.facebook.com/pennycressforkids
SAY WOMEN GLASGOW: www.say-women.co.uk
URSULA MESTRE: ursulamestre.tumblr.com
Thur 12th March… Stereo presents: JAMES CHANCE & LES CONTORTIONS + JD TWITCH + WHILST (live), 8pm,
Tickets available from Monorail Music, Tickets Scotland, and http://bit.ly/1DjHvJ0
awmagad! not to be missed…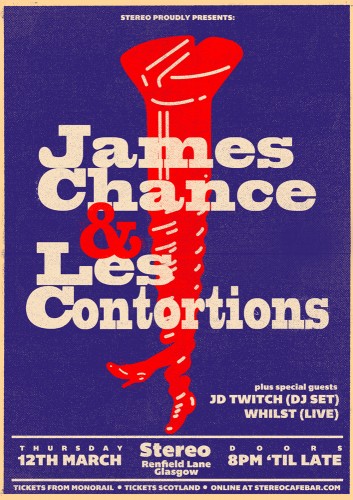 Next Sat 14th Feb V-DAY celebrations in Stereo…
7.30pm - VALENTINE'S DAY LOVE MASSACRE: Live Action from Ruby and Security plus special guests Ela Orleans (DJ Set) and performance by MH followed by…
11pm – 3am PUSH IT -WHEN 2 BECOME 1- V DAY SPECIAL
Thur 29th Jan… Stereo presents Clap! Clap! (live) plus Ghana Soundz DJs + Afrodeesia DJs
http://bit.ly/1Iys7K7
CLAP! CLAP! (Black Acre)
is a new project by the italian producer C. Crisci, focused on research and sampling of tribes, bands and singers originating from the African continent.
http://www.tayibebba.com/
plus guest DJs
GHANA SOUNDZ
+
AFRODEESIA
Stereo
9pm til late
£7 adv
Tickets available via Monorail Music, Tickets Scotland and online http://bit.ly/1Iys7K7
Stereo is proud to present Glasgow's finest power pop people Bis!
Tickets available from Monorail Music, Tickets Scotland and here
Hot on the heels of the release of the BIS ANTHOLOGY: 20 YEARS OF ANTI-SEPTIC POETRY
http://bisnation.com/
Great support from
Ghosts of Dead Airplanes
http://ghostsofdeadairplanes.bandcamp.com/
and
Pennycress
http://pennycress.bandcamp.com/
Tickets available from monorail music, Tickets Scotland and to buy online here
http://www.stereocafebar.com/listings/events/9-jan-15-bis-stereo/
Come on!