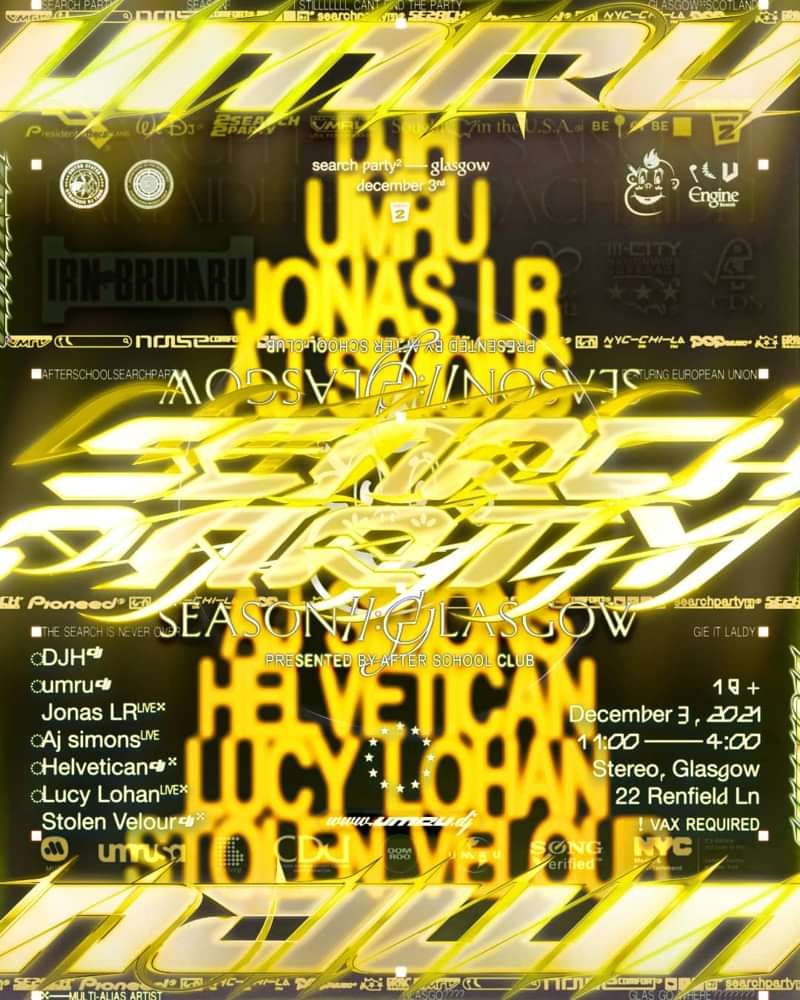 After School Club presents:
Umru's Search Party
£8
Entry Requirements: over 18s only
Buy Tickets
At a mere 22 years old, Umru's list of accolades is already longer than most seasoned producers. Production credits on Charli XCX's legendary Pop 2 mixtape? Check. Collab's with the likes of 100 Gecs, Caroline Polacheck and Tommy Cash? Check. Dropping an EP on the internets most buzzed about record label, PC Music? Check.
In recent years, as bloggers have franticly scrambled to disambiguate Spotify playlist-come-genre "Hyperpop", Umru's name has featured prominently. It's easy to see why; his use of metallic, clanging synthesisers and pitch shifted vocals place him in the same sonic worlds as veteran producer Sophie and labelmate AG Cook. However, Umru is not satisfied with simply adhering to these tropes, with recent works fusing his sound with experimental hip hop and trap, as evidenced on new single "Check 1" with Tommy Cash and 645AR.
Clearly an artist with an intent to push culture forward, Umru hasn't rested on his credibility with established artists and labels. Instead, he is spearheading a group of young artists who are transforming "Hyperpop" from an internet sub-genre into a bona fide scene. Tracks with frequent collaborators such as Ericdoa, AJ Simons and Fraxiom confront the reality of post-internet/ post-pandemic/ post-gender existence and paint an intriguing picture of the direction which pop and electronic music might be headed.
With the launch of his first club-night, "Search Party", Umru gives us an opportunity experience what he and his peers' glitchy, cutting-edge soundscapes feel like on an IRL dancefloor. In an event curated exclusively with After School Club, Umru brings a selection of international artists to create a uniquely eclectic line-up. Germany's DJ H (DJ Heroine) brings his experimental take on hardcore whilst Swedish pop vocalist AJ Simons will premiere new work produced with Umru. Multi-alias artists Stolen Velour/ Jonas LR and Helvetican/ Lucy Lohan will perform hybrid sets showcasing their skills as both DJs and vocalists, spanning from pop and cloud-rap to energetic club bangers.
Within a club scene over-saturated with run-of-the-mill house and techno, Umru's Search Party creates a space for those of us who are searching for something a little different. Be sure to grab a ticket in advance, as it may be a while before you're able to catch a line up like this in Glasgow again.