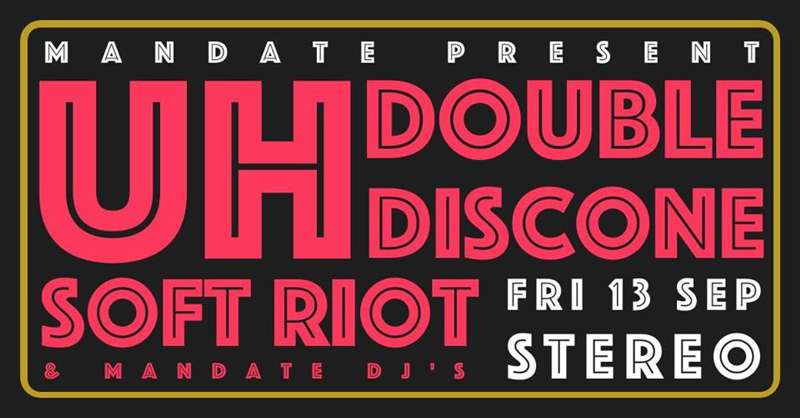 Mandate Present: uh / double discone / soft riot
Entry Requirements: over 18s only
MANDATE is back to push new terms of compliance!,,,,,,,,,,,,
We have carefully selected three live acts to enthral you on the dancefloor,,,,,,,,,
~ UH ~ london based sister-brother duo make beautiful, dubbed-out electronic pop odysseys, whipped into room-shaking monsters through their incendiary live performances.fresh from playing Corsica Studios alongside post-punk royalty MXMJoy, and a live session with Church of Sound on Worldwide FM, MANDATE brings them across the border for their Scottish debut.
LISTEN AND BUY >>>> https://uhuhuh.bandcamp.com https://soundcloud.com/uh-sc/seasick-in-salts
~ DOUBLE DISCONE ~ freewheeling french synth enchanters, double discone have been blessing numerous venues in glasgow with their raw, HI-NRG live sets. acidic, infectious, sleazy grooves sitting somewhere in amongst lcd soundsystem, cabaret voltaire, adonis & DAF. honing their live show over the past year to be one of the best live dance acts in the city.
LISTEN & BUY HERE >>>> https://doublediscone.bandcamp.com/releases https://m.soundcloud.com/doublediscone
~SOFT RIOT~ a one man darkwave maestro! flashing neon synth lines, mechanised hard drums, icy-cold baritone vocals. integral to the glasgow music scene, soft riot's live performance is as captivating as it is joyous as he transcends to make a new meaning of the one man band.
LISTEN & BUY HERE >>>> https://softriot.bandcamp.com www.softriot.com
~MANDATE DJS~
£4 tix (link coming pronto) £5 OTD