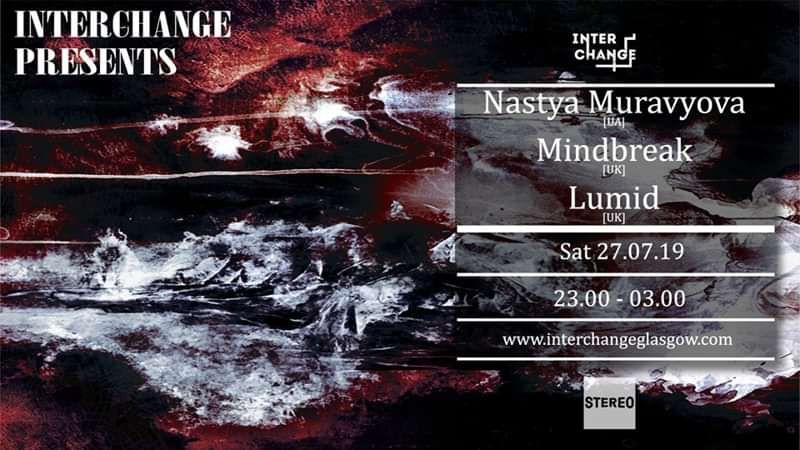 InterChange Presents Nastya Muravyova
Entry Requirements: over 18s only
In true InterChange fashion Nastya Muravyova, the shining star of Kyiv's underground scene, will be joining us while making her UK debut on the 27th of July at STEREO.
Kyiv based Nastya evolved in a short space of time from obsessed music lover and all-night dancer to an international techno artist. The flight attendant by day DJ by night is fast becoming a force to be reckoned with in the European techno scene. She cut her teeth at the legendary Cxema club where she is a regular and has also played in many of Berlins techno institutions such as Berghain.
Nastya balances on the edge of pumpy 4/4 techno and sharp breakbeat, slightly aggressive and all the way sexy. She mixes postpunk, coldwave and rock influences with heavy 4/4 structure with inserts of EBM and electro. She marries the perfect combination of the Eastern European coldness coming from the tiles of the Kyiv Cxema with the intensity of the Berlin techno clubs.
We're ecstatic at InterChange to be with Nastya when she meets the famous Glesga crowd for the first time, this is one not to be missed. Tell your grandkids where you were when Nastya Muravyova came to Glasgow.
Boiler Room Set: https://youtu.be/aq49MJa_J50 Soundcloud: https://soundcloud.com/vsehzhdetsmert
Tickets Available At £8 On Our Website More On The Door
Head to InterChange, No Pressure!