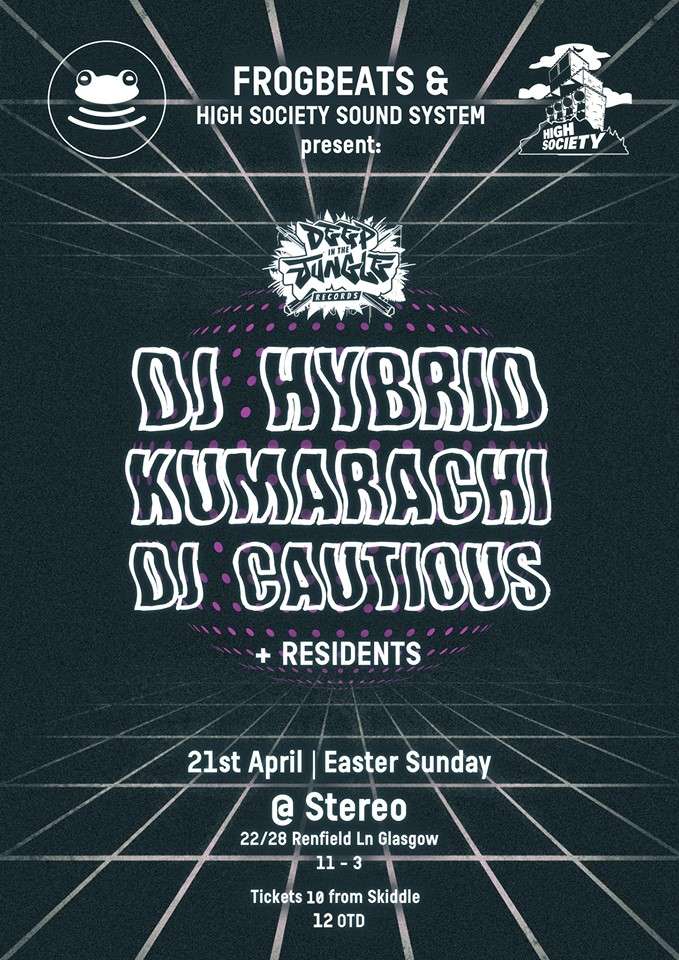 Deep In The Jungle Records Showcase (Frogbeats X High Society)
Entry Requirements: over 18s only
Buy Tickets
Frogbeats & High Society Soundsystem - Bsr present Deep In The Jungle Records showcase ft.
DJ HYBRID KUMARACHI DJ CAUTIOUS +residents
Tickets £8 + BF MOTD
Tickets available from https://www.skiddle.com/whats-on/Glasgow/Stereo/Deep-In-The-Jungle-Records-Showcase/13441480/
[Powered by High Society Soundsystem]
-----ⒿⓊⓃⒼⓁⒺ ⒾⓈ ⓂⒶⓈⓈⒾⓋⒺ-----
Deep In The Jungle Records is a UK-based label dedicated to resurrecting the Jungle stylings of yester-year and bringing them back to their rightful place at the front and centre of the dancefloor.
DJ Hybrid started out DJ-ing in 2004 in the city of Coventry and quickly became well known for his diverse styles and his monthly podcasts, it wasn't until 2008 that he started to learn how to produce music and in 2010 he started up his first label called 'Audio Addict Records' where his debut release 'Step Up' was released on a exclusive vinyl run and was sold worldwide. In 2012, after locking himself away in the studio for years he was signed to DJ Vapour's mighty '36 Hertz Recordings' with his debut release 'I Get Mash Up'. Then in 2013 DJ Hybrid moved down to the south coast where he started up new label 'Deep in the Jungle Records' and became a regular within the Brighton Jungle Drum & Bass Scene. Later that year he achieved his first number 1 chart position with his track 'Badboy' which gained massive support throughout the scene and was championed by many DJ's as a modern Jungle classic. In 2015 he won two awards at the We Love Jungle Awards in London, one for 'Best Breakthrough Producer' and the other for 'Best Breakthrough DJ'. After the success of the awards he decided the time was right to start working on his debut album and in November of 2015 his debut album 'Mixed Origins' was released and received support from across the entire Dance music scene and also made it to number 1 in the Juno albums chart.
In 2017 his label 'Deep in the Jungle Records' won the award for 'Best Jungle Label' at the We Love Jungle Awards which was a huge milestone in his career not just for himself as a producer but as a label owner too. Since then Deep in the Jungle Records has been recognized as one of the most prolific and forward thinking labels in the modern Jungle scene.
Over the last few years DJ Hybrid has become one of the leaders of the modern Jungle movement and is a firm favourite with Drum & Bass fans and Junglists alike, his unique style has made him stand out amongst the crowd and gain a loyal following worldwide. His many contributions to the Jungle Drum & Bass scene includes anthems such as 'Puffin Erbz' and 'Badboy' he has also remixed such Jungle classics as Good Body Girl, Luv Ta Luv Ya, Gallist by Top Cat and The Hitman by Marvellous Cain.
With support for his music from artists such as Ray Keith, Serial Killaz, Bladerunner, Visionary, Liondub, Aries, Remarc and Roni Size, DJ Hybrid is one of the promising future talents of the Jungle and Drum & Bass scene to look out for…
👉 http://soundcloud.com/djhybrid 👉 http://facebook.com/djhybriduk 👉 http://officialdjhybrid.bandcamp.com/
Kumarachi: Straight out the streets of Nottingham, the new-school sound of Kumarachi is one that fans of that old- school jungle vibe have been digging on for a minute now. With heavyweight releases on imprints like DJ Hybrid's Audio Addict and Deep in the Jungle, the surfacing of the underground sound of Kumarachi on none other than Kasra's forward-thinking Critical imprint at the end of 2017, which was a welcome surprise. Tasked with helming the ever-impressive Binary series on Critical, Kumarachi merged the very best elements of the old-school with a new-school sensibility. Summed up by the deep and deadly vibes of"Someone", to the insistent breakbeat-driven intros and shuffling junglistic grooves of "Dusk" and "NG". 2018 began with "Still Here" being included on on Drum & Bass Arena's Anthems compilation, and the releases have continued since. The most recent releases were his "Saturn's Return EP" on Deep In the Jungle which showcases a deeper, rawer jungle sound, while his "Lisbon" single on Skank and Bass focused on the more minimal side of Kumarachi's sonic footprint. Recent support has come from the likes of heavyweights like Noisia, Rene La Vice on Radio 1, to Skank & Bass, UKF, Nest Hq, DJ Mag, and Bass Rush.
DJ sets have seen Kumarachi cover the length of the UK and Portugal so far this year, with upcoming shows in the UK, Europe and Canada planned for the Autumn and Winter of 2018. Further releases are also scheduled before the year's out, promising to once again show why he "flexes an infamous status at the forefront of new-gen drum & bass producers" - UKF "His sound tiptoes between old-school breaks and the agro and liquid retro-future of DnB present. It's a crazy concoction that would make even the most veteran among the heads happy" - Nest HQ
"Phenominal scenes as always" - Juno Download. "If you're yet to hear of Kumarachi, you'd better jump on this wagon quick, as he is on track to smash the scene open next year" - DJ Mag "Proper Jungle Drum & Bass" - Critical Music
👉 http://facebook.com/kumarachi 👉 http://soundcloud.com/kumarachi
Dj Cautious...
18+