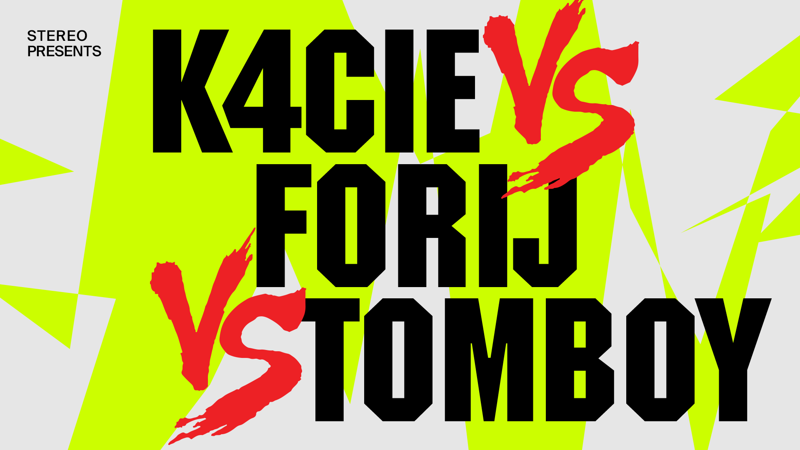 Stereo Presents: K4CIE vs FORIJ vs TOMBOY
Entry Requirements: over 18s only
DING DING DING!
We've got three hip hop heavyweights coming thru warrior style to slice the decks like samurais - DJs representing 3 Glasgow hip hop nights will sonically face off in the basement to prove who is the ULTIMATE & INFINITE
Contender #1 - K4CIE
Local don K4CIE has been destroying it with both her mixes and club night, PEACH - featuring live MCs alongside DJs. Expect hip hop, grime, trap and rap. Her roundhouse cuts will send all competition to the Mortician - no doubt https://www.facebook.com/K4CIE/
Contender #2 - FORIJ
A Glasgow based creative collective made up of MCs, producers, DJs and artists doing big things in 2018. Expect hip hop, grime, rap and trap. Make sure to protect ya neck when they're in the building https://www.facebook.com/ForijGLA/
Contender #3 - TOMBOY
2 local ladies who host the finest female MCs and fire DJs from Glasgow and beyond. Expect female hip hop, grime and RnB alongside a lotta dirty left hooks and kicks to the shins https://www.facebook.com/tomboyglasgow/
WHO'S GETTING MUSICALLY POPPED LIKE A CORONA? WHO'S SONICALLY GOING TO THE CORONER? We'll find out on the 23rd.....
£5 OTD
Stereo is a safe(r) space so please be kind to one another or you will be asked to leave
If you have any questions get in touch