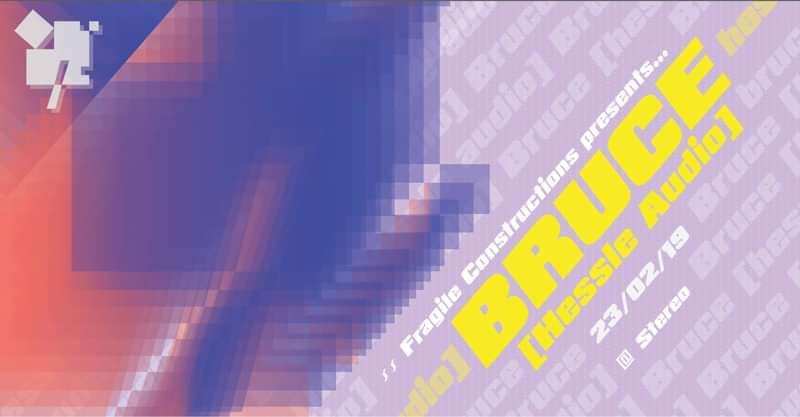 Fragile Constructions w/ BRUCE (Hessle Audio)
Entry Requirements: over 18s only
Buy Tickets
Hey hey! We're over the moon to trumpet that Glasgow has a brand new clubnight focusing on the leftfield wings of dance music. And we're kicking off with a bang!
If cutting-edge is the idea, who else should champion our first night than the purveyor of innovative sound design himself, Bruce. Off the back of his album on the Hessle Audio imprint "Sonder Somatic", the Bristol DJ is coming to the Stereo basement to help us love life, lose self-awareness and dance like there's no tomorrow.
Just hear what Resident Advisor had to say: -"Bruce makes techno feel pliant and flexible" - "One of UK dance music's most distinctive and intriguing discographies of the last five years." - "Endlessly entertaining" - "Considered, mesmerizing beat science. This is stripped-down club music at its most rich and sumptuous."
You get the message. With a deep understanding of tension and release, Bruce has been a fundamental force in the continuing output of Bristolian techno. He's released some brilliant records on Timedance label, too, along with the mighty Livity Sound and Hemlock.
Here's big man's Boiler Room: https://www.youtube.com/watch?v=4Rq6g1kvxgQ&t=1544s
Support by Ales (Fragile Constructions) https://www.keakie.co.uk/channels/fragile-constructions-/
---
We also thought that a wee exhibition at the beginning would be a nice way to bring people together and set the right tone for the night; so let's come down a bit earlier to enjoy some local art talent and have a chat before the dance kix off! Doors open 10pm. Artists TBA.
Be fast with the tickets, limited 1st release already running low! https://www.residentadvisor.net/events/1215196
See ya in the dance, Peace