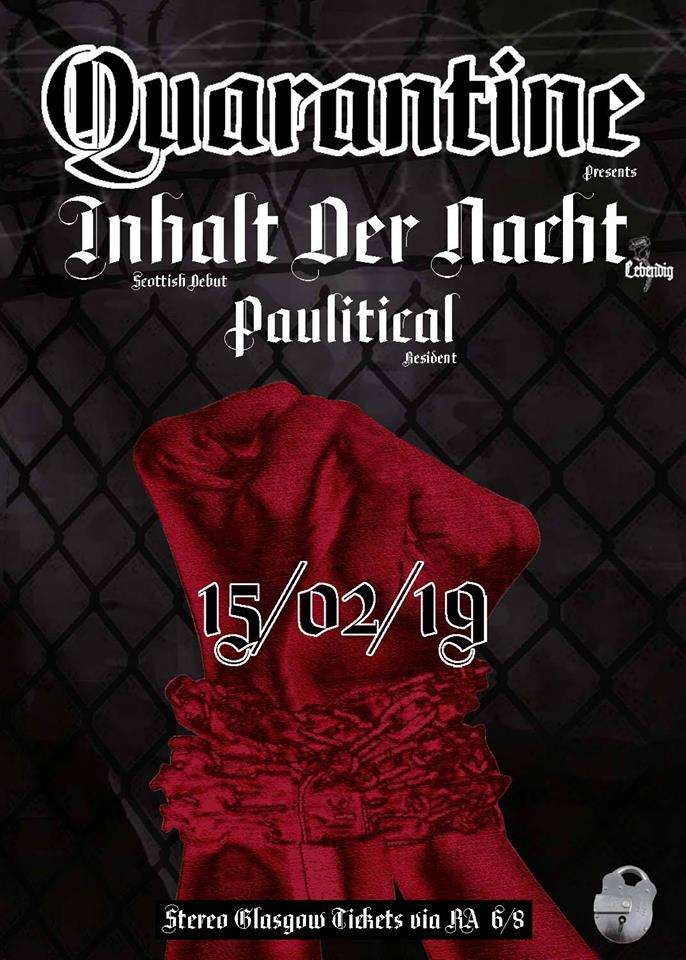 Quarantine: Inhalt Der Nacht (Scottish Debut)
Entry Requirements: over 18s only
Buy Tickets
Inhalt der Nacht (Lebendig, Monnom Black, SEELEN.)
Paulitical (Quarantine Glasgow)
Tickets
Early Bird - £6 - SOLD OUT! Standard Advance - £8
Quarantine Glasgow
After a succesful first launch party in December with Deepbass. Quarantine continues it's promotion in Stereo taking the music to a different style of artist. We welcome Inhalt Der Nacht to Scotland for the first time where we are really looking forward to having him!
Inhalt der Nacht
Inhalt Der Nacht is a Berlin based artist defined by a singular sound imprint inspired by cold wave and new wave beats. Through his music he gives us great talent and a unique sound of EBM - fused Techno. Lebendig co-owner Inhalt Der Nacht came to the rise in 2018 where he has had several releases on the label. Also on the label are releases from other co-owner Echoes Of October and also other artists like Peryl and Tham. In 2018, Dax J noted Inhalt Der Nacht as an artist to watch and he recently released on his label Monnom Black. He is also currently a resident in Griessmuehle, Berlin.
https://soundcloud.com/inhaltdernacht/
https://www.facebook.com/inhaltdernacht/
https://www.residentadvisor.net/dj/inhaltdernacht/
https://lebendig.bandcamp.com/
Paulitical
Glasgow based DJ influenced by post punk, techno and EBM continues with Quarantine into a further event. Paulitical has experience playing at after parties in London like Jaded at Corsica Studios. Last year in October, he also played at one of Griessmuehle's parties in Berlin, Ismus.
https://soundcloud.com/paulitical-mcginlay
https://www.residentadvisor.net/dj/paulitical
https://www.facebook.com/quarantine-glasgow/