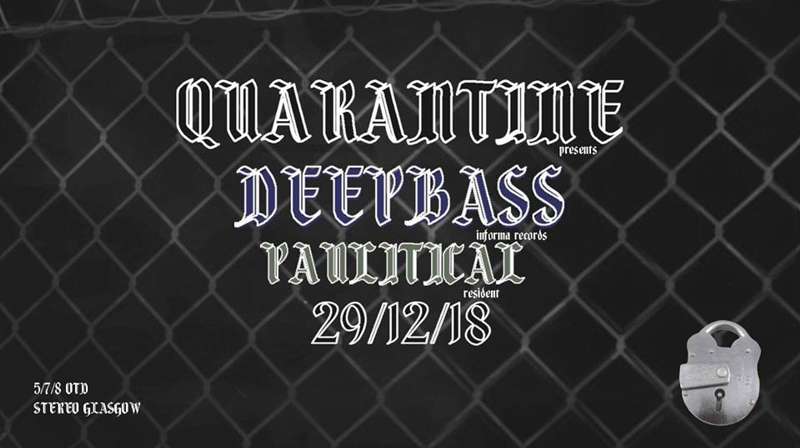 Quarantine Launch Party: Deepbass
Entry Requirements: over 18s only
** £5 EARLY BIRDS ON SALE - RESIDENT ADVISOR**
Quarantine
Quarantine arrives for the first time in Glasgow. A new promotion event that will be regular in Stereo, Renfield Lane. It's main influence coming from various types of techno and EBM. There will be regular guests known to the Glasgow scene as well as new guests that are up and coming in places outside of Scotland. This launch party will go off in style!
Deepbass
A project known to many in Glasgow where he is not unfamiliar. Now living in Barcelona, but from Glasgow originally. Deepbass has been a consistent producer and performer for many years starting his passion for music at a young age. He gives great talent and commitment to his work in his own label, Informa Records. On this label he produces a hypnotic and deeper side to techno where there also has been releases from such artists like Reggy Van Oers, Claudio PRC, Takaaki Itoh, Ness and NX1. He has also created other material of his own releasing on labels like Edit Select, Soma Records and Dynamic Reflection.
Soundcloud - https://soundcloud.com/deepbass
Facebook - https://www.facebook.com/pages/Deepbass/106339422751176?fref=ts
Resident Advisor - http://www.residentadvisor.net/dj/deepbass
Paulitical
Glasgow based DJ influenced by techno and EBM starts his own residency in this new event, Quarantine. Prior to this Paulitical has experience playing at such after parties in London like Jaded at Corsica Studios. Recently he also played over at one of Griessmuehle's parties in Berlin, Ismus.
https://soundcloud.com/paulitical-mcginlay
https://www.residentadvisor.net/dj/paulitical
https://www.facebook.com/quarantine-glasgow/
https://www.facebook.com/paulitical01/
Tickets
Early Bird - £5 Avance Tickets - £7 On The Door - £8