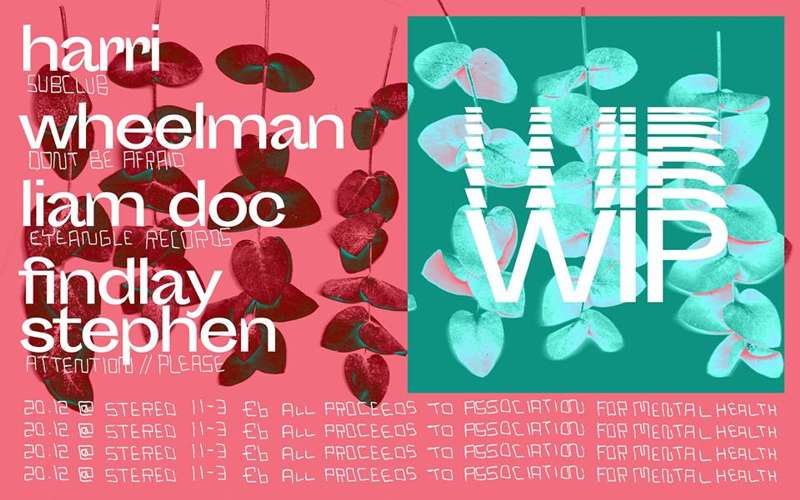 WIP: Harri, Wheelman, Liam Doc & Findlay Stephen
Entry Requirements: over 18s only
A charity fundraiser with all proceeds going to the Scottish Association for Mental Health - £6 on the door! 11pm-3am.
Here we have a night which is simply too good to miss with 4 local selectors who know how to get you moving.
Harri - Not much needs to be said about this man other than he is part of the longest residency in the world at one of the best clubs in the world. He has been throwing parties every weekend for over a quarter of a century at Sub Club and we are delighted to have him on board for this one.
Wheelman - An extremely talented producer and DJ with releases on labels such as Stereotone, Studio Barnhus and Don't Be Afraid. If you're yet to see him play you're in for a treat.
Liam Doc - The Eyeangle Records boss recently secured a Wednesday night residency at Sub Club and has been blowing the roof off every week since. He is also one of Glasgow's most up and coming producers - and you'll be hearing more and more about him as time goes on.
Findlay Stephen - 1/3 of Attention//Please who have been rising in popularity over the last couple of years through bookings such as Big Miz and Harrison BDP. The man is a natural talent on the decks and you can count on him to lay down some big tunes on the night.
Poster done by the talented Lucy Wilson, find her on instagram @lucywilsonstuff