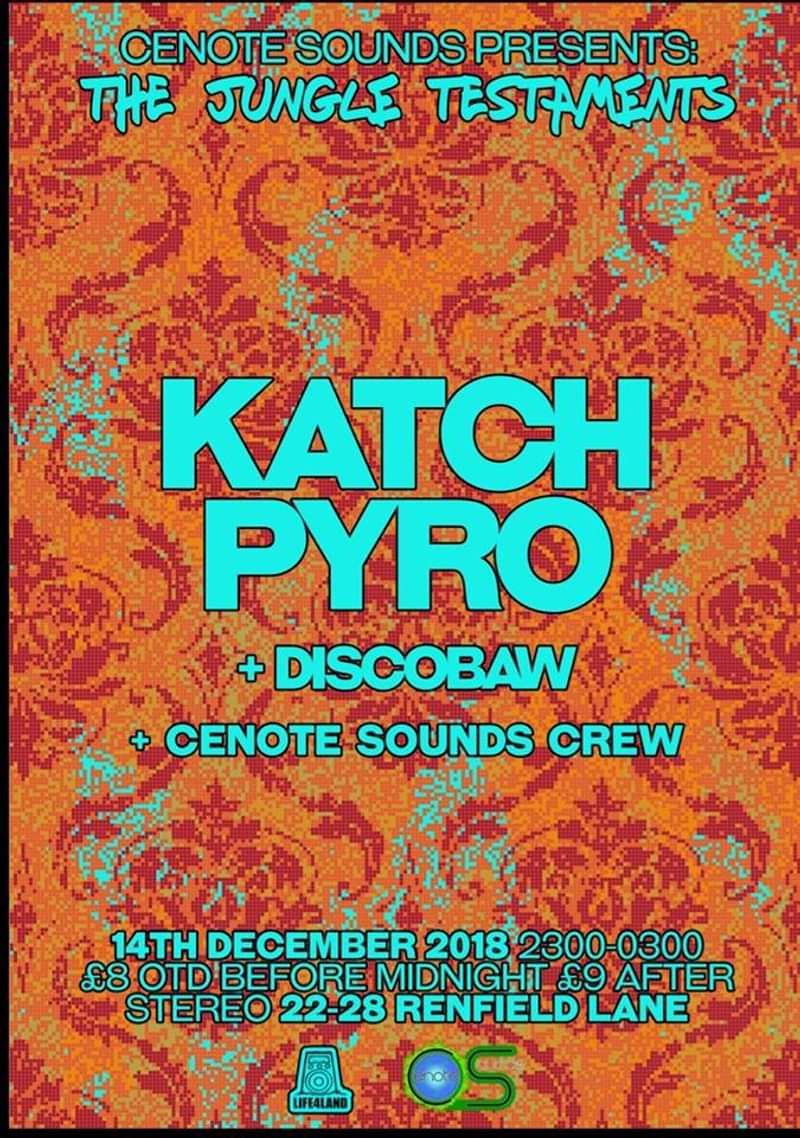 The Jungle Testaments: Katch Pyro & Discobaw
Entry Requirements: over 18s only
We are back for the final Jungle Testaments of 2018!!! This will be the last installment of Jungle Testaments for a wee while as we move the rig down to Galloway for the spring season :) So be sure not to miss out on this one!!!
Katch Pyro
Katch Pyro is a cross between fire and melody ,drum and bass, country and western, rock n roll , tropical dance music for any ears. A collaborative producer, Katch Pyro has worked with many underground record labels (Life4Land/Erisian/Jigsore/Irritant/Kaotik). Pyro tours regularly in UK rave scene, Europe and Russia Representing As a active member of Life4land Soundfsystem . Katch Pyro has Also produced the music score's For Pyratrix Circus's stage shows 'Lil Red Rioting Hoodie' ,'Reconbobulate' and the Film "Alice throught the wonderglass" Currently being considered in the Raindance film festival 2013. KPs heart remains Truey in the Spiral of the Soundsystem Culture ......Forward the RaveOlution One G-Love.
Discobaw
Discobaw aka Richard Smith has been involved in the Dj and music scene for the last 10 years. Running nights in Dundee and Glasgow under the guise of Level Up and Making Things Happen. Discobaw has supported and hosted numerous acts within the scene, such as The McMashClan, Slamboree, Phibes, Fabio and Grooverider and Stickybuds as well as many other DJ's who are part of the vibrant music scene in the UK. He is no stranger to the festival scene either, he has been found behind the decks at Elements Festival, Beaverfest, Kelburn Garden Party, Audio Soup and headlined the main stage at Mugstock Festival. He is a versatile DJ who does not tie himself to one particular genre and is comfortable playing several. He brings Elements of pop music to add familiarity and draw in the people who wouldn't normally listen to dance music.
Octivist
Co-founder of Cenote Sounds and a DJ known for playing a heavy weight selection from start to finish! Coming at ye with an arsenal packed full of filthy Drum and Bass, snare riddled Jungle and pure fist pumpin Tekno, this guy will definately make the place shake whenever called upon!
Door Tax: £8 before 12/£9 after
Be sure to get down early n soak up the last Cenote Sounds session of the year!!